Floyd campus' 2013 Turkey Day Walk-Run
Bill Cox and Lorrie Rainey are the winners of the 2013 Floyd campus Turkey Day Walk-Run which took place Nov. 20.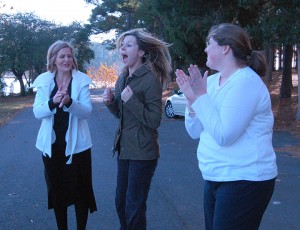 Participants in the annual event had to estimate how long it would take them to walk or run the 1.85 mile track around Paris Lake. The participant who finishes closest to his or her estimated time is the winner.
Cox, head grounds supervisor, was the Men's winner with an estimated time of 22:20 and real time of 21:47.
Rainey, administrative assistant of PHED and athletics, was the Women's winner with an estimated time of 31:30 and a real time of 31:04.