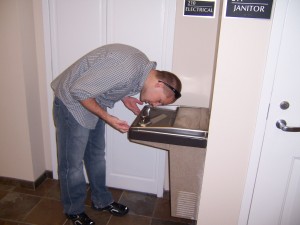 For multiple semesters, the water fountains on the Paulding campus have not been operational.
This was noticed during the hot summer months by some students who did not wish to purchase the sodas offered in the machines near the lobby.
Cathy Ledbetter, dean of the Paulding campus, recently received a student suggestion in one of the suggestion boxes around campus requesting that the water fountains be fixed.
She said that the student suggestion was the first alert to letting her know about the fountains not working.
Upon realizing the problem, Ledbetter said that "a work order was put in to plant operations to have the fountains at the campus that were not functioning fixed."
Phillip Kimsey, director of physical plant, said that the water fountains on campus were not working "due to past problems with the plumbing system on the first floor."
According to Kimsey, "Previously, several leaks in the plumbing were fixed, and the outside water coming in was turned off, thus shutting down the fountains."
He also said, "The water fountain on the first floor needed to be replumbed and replaced. The second-floor water fountain needs to be replaced, as it leaks when it is turned on."
No water fountain can be placed on the third floor because the infrastructure no longer exists to support one.
Kimsey said, "The third-floor water fountain had to be permanently removed to allow the floor plan to be redesigned for access to the new classrooms."
The first-floor water fountain is now working and the second-floor water fountain is scheduled to be replaced at some point in November.