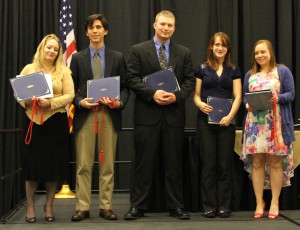 Georgia Highlands' 42nd annual Honors Night recognized students who have stood out during the current school year.
The event was held April 10 at the Clarence Brown Conference Center. Over 30 different awards were presented, some with multiple student winners, and some students won more than one award.
Awards included the Business Merit award, Warren Akin IV Award for Excellence in English studies and Who's Who among others.
Justin Deal took home eight awards, including Outstanding Student for Political Science Majors, the Diversity Student Leadership award, the Georgia Highlands College Leadership Award and five others.
"It was very nice. I appreciate the college recognizing the effort I've put in. I was humbled and honored and it definitely paid off," Deal said.
Tatiana Smithson also took home the Leadership Award, which was presented to her by GHC's interim president, Renva Watterson. "It is an honor and privilege to be nominated and win," Smithson stated. She continued, "All I ever wanted was to make our school better and help our students excel."
Deal offered advice to students, saying, "Regardless of the awards, it's about putting yourself out there, and it goes to show that things will come your way. And regardless of what happens on the way, go for your goal!"
Check here for the full Honors Assembly program.
[slideshow gallery_id="13″]