Tyrone Bledsoe to deliver keynote at GHC's graduation ceremony; faculty recognitions also planned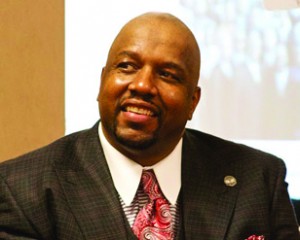 Georgia Highlands College will welcome Tyrone Bledsoe as the 2014 spring commencement keynote speaker at GHC's graduation Thursday, May 15, at 7 p.m. at the Forum in Rome.
Born and raised in Grenada, Miss., Bledsoe received his Bachelor of Arts and Master of Education degrees from Mississippi State University and went on to complete a Ph.D. in Counseling and Student Affairs Administration at the University of Georgia.
He was also honored by the State of Georgia as Outstanding Doctoral Student, and the University of Georgia has recognized him as Outstanding Doctoral Alumnus.
Bledsoe also served as vice president for student life and special assistant to the president at the University of Toledo. He is a lifetime member of Phi Beta Sigma Fraternity and currently resides in Toledo, Ohio.
Beyond Bledsoe's awards, affiliations and academic achievements, he is the founder and executive director of SAAB, the Student African American Brotherhood. GHC's Brother 2 Brother is a chapter of SAAB and recently won chapter of the year.
SAAB, which was founded in 1990, has grown to more than 300 chapters across college and university campuses as well as middle and high schools in more than 39 states in the U.S. SAAB provides young men of color the privilege of social, cultural and spiritual enrichment.
SAAB's values are the cornerstone for organizational decisions, program development, and strategic collaborations and partnerships.
SAAB encourages participants to embrace Core Principles of Accountability, Proactive Leadership, Self-Discipline and Intellectual Development in order to exemplify the values that uphold the SAAB mission and vision.
Faculty will also be honored at graduation.
David Mathis, assistant athletics director, will be receiving the Presidential Meritorious Service award.
Carolyn Hamrick, former Cartersville campus dean, will be awarded the Wesley C. Walraven Faculty Award posthumously.
Catherine King will be the mace bearer and will lead the faculty graduation procession.