Donald J. Green of Big Rapids, Mich., moved into his office on GHC's Floyd campus as the college's fourth president on Sept. 8.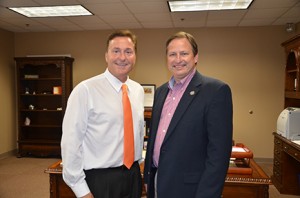 Green originally served as the vice president for extended and international operations at Ferris State University.
He attended Michigan State University, where he earned his bachelor's in Public Administration. Ohio State University awarded him his master's in Labor and Human Resource Management.
He then finished school at Western Michigan University, where he received his Doctorate in Educational Leadership.
Green said his main plan for Georgia Highlands is "Growth." He cited not just enrollment growth, but curricular growth as well.
With one bachelor degree currently offered at GHC and another one on the way, Green sees endless opportunities in the growing college.
Green has previously worked on building baccalaureate degree programs around next-generation careers such as molecular diagnostics, digital animation and video game design, digital forensics and next-generation manufacturing.
"Those are the opportunities that are really going to build a great career for our students as they progress through school," Green stated.
A new set of degrees offered by Georgia Highlands would encourage the enrollment growth Green aims for.
The enrollment numbers are not as important to Green as touching students and helping them reach their goals.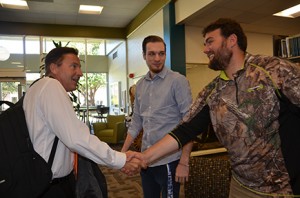 "I want to reach into our communities and help young people to understand the benefits and the value of education," Green said, "especially at Georgia Highlands College where you can get a great start or you can finish."
Green stressed that it's not just seeing enrollment growth, but also seeing students graduate.
He said, "One thing that breaks my heart is students who come to school and do not finish. They walk away unable to fulfill their dreams."
Green also stated that it is a perfect time to expand the horizons of the college due to the bustling economy in North Georgia.
Hank Huckaby, Chancellor of the University System of Georgia, said, "The Board of Regents and I are excited about the appointment of Dr. Donald Green as president of Georgia Highlands College. He brings a record of accomplishment and vision to GHC that will serve the students, faculty and community extremely well. The future of the College is in good hands."
Renva Watterson who served as interim president during the period after Randy Pierce's retirement has returned to her position as vice president of academic and student affairs.