Because of the continuing remodeling of the D-building, GHC Marietta classes have temporarily been moved.
The renovation began in late June and GHC classes have been moved to the Atrium Building, the G-Building and Norton Hall.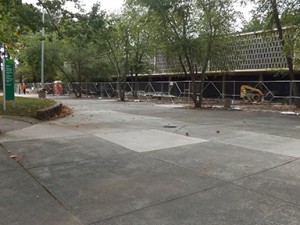 The work being done on the D-building, which sits right next to the Joe Mack Student Center on the Southern Polytechnic State University, is the "talk of the campus."
Jessica Troxell, a psychology major, believes that the remodeling makes the campus look temporarily unattractive.
The D-building was built around the 1960s, and Dean Ken Reaves of GHC Marietta stated that "significant renovations were needed" based on the years that the D-building has been standing.
Reaves said that the ongoing renovation has not personally hindered him and that he "believes SPSU has been very helpful" in finding GHC classrooms and "providing ample assisting during this transition."
Reaves hopes that renovations will be done by Fall 2015.
He said the overall experience of having class in a newly constructed teaching space will be positive for student learning.
Arleena Burnett, psychology major on Marietta campus, is excited about the remodeling. She said it makes it a little harder to get to class but everything will look great soon. "New building, new year- sounds great to me," Burnett said.