Georgia Highlands College offers study abroad trips to Costa Rica in spring, summer
GHC's study abroad program is giving students the opportunity to have a hands-on learning experience with trips to Costa Rica.
Students will be housed on the University of Georgia's Costa Rica campus. UGA purchased land in Costa Rica near San Luis and created a small campus that includes classrooms, a cafeteria, a library and lodging.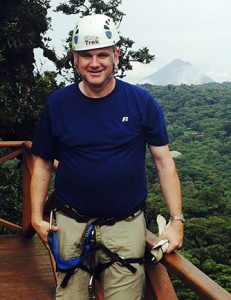 Bronson Long, director of global initiatives and study abroad at GHC, recently visited  UGA's Costa Rica campus and was very impressed. "The tours, food and activities are wonderful. The scenery is beautiful, and the locals are very friendly."
There are two Costa Rica trips planned for 2015, and a third is in the works. "The trips are fun, educational and very inexpensive," Long said.
The first trip will take place over spring break 2015, from March 22-29. Any student can participate, and the cost is $1,395.
All spaces on the spring break trip are currently filled, but Long stated that students who are interested can contact him for an application and he will place them on the waiting list.
Participants will go to the Playa Samara beach, walk through the Monteverde Cloud Forest, zip line and visit chocolate and coffee farms. Students will also help with reforestation and get to know the nearby locals by spending a night with a local family.
Long stated, "There is no formal course credit for the spring break trip, but professors may offer students credit through independent study."
The second trip to Costa Rica will be a 10-day health sciences trip from June 1-10, 2015.
This trip is only for nursing and dental hygiene students and costs $1,550. There are still spots available, so Long encourages students to sign up quickly.
Participants on the health sciences trip will experience several of the same activities as those on the spring break trip as well as learning what health care is like in Central America by listening to lectures from local health personnel and visiting medical clinics.
Some NURS 3306 course work will take place in Costa Rica.
Mark Greger, associate professor of Spanish and Costa Rica faculty trip leader, has been to Costa Rica a few times. "I fell in love with the culture and society, and it cemented the fact that I wanted to teach Spanish. I hope participants on the trips also have a life-changing experience."
A third Costa Rica trip is being planned for summer 2015. This will be a month-long consortium trip with other Georgia schools during which GHC students can take college courses while in Costa Rica and earn class credit.