FAFSA verification may be needed to keep financial aid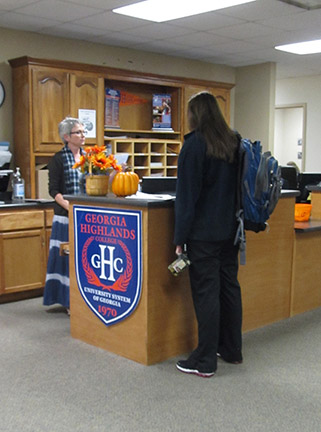 With FAFSAs becoming available Jan. 1, Megan Simpson, director of financial aid, encourages students to get an early start and to keep check on their email and SCORE accounts to see if they have been selected for verification.
The financial aid verification process occurs when the Department of Education selects certain FAFSAs to be verified. GHC's Office of Financial Aid is in charge of confirming that the data submitted on the selected FAFSAs is accurate.
Simpson stated that the Student Aid Report, emailed within three to five days after students complete their FAFSA, will indicate that a student is selected for verification by having an asterisk by the EFC label.
She said students can also go to "Check My Aid Status" on SCORE to see if they have been chosen for verification and to see what paperwork they need to fill out. The link also allows students to see award amounts, outstanding requirements, HOPE eligibility, Satisfactory Academic Progress and messages from the Financial Aid Office.
Since the verification process takes four to six weeks, Simpson stressed the importance of getting documents submitted as soon as possible, and Lauren Huddleston, financial aid processor, advised students to get paperwork submitted on time by paying attention to priority deadlines.
The deadlines and forms can be found on GHC's financial aid webpage and, once completed, should be sent to the financial aid office. Also emails listing verification requirements will be sent to students' Highlands email.
Todd Jones, vice president for student affairs, stated, "It's our goal to get notifications about verification out in early March so that students will have more time to get their paperwork submitted."
Jones said that when all students wait until the last minute everything piles up. He said another big issue is when incomplete verification forms are submitted.
"This also holds up the process and causes a delay in financial aid awards," stated Jones.
Reba Wood, psychology major at the Floyd campus, was selected for verification after making corrections on her FAFSA and said, "I was confused at what to do at first, but I got in contact with a financial aid adviser and she helped me a lot."
Simpson suggests students having trouble filling out their forms contact a financial aid adviser or use the GHC 411 ticketing system that provides help to students 24/7.