Safe Zone program provides haven for GHC students
GHC Safe Zone is an ally training program for LGBT students and also other college students to help empower individuals. This Safe Zone is made up of GHC staff that volunteered to receive training to be certified Safe Zone members.
Safe Zone is very popular around the nation for college students who face issues on a daily basis but may not have someone to speak with.
Chris Hart, instructor of mathematics on the Marietta campus, and Elizabeth Dose, assistant professor of psychology on the Cartersville campus, work as the coordinators for the program.
One thing to know about Safe Zone is that it can be different at each school to fit its own needs. The goal for this program is to help college students become more comfortable with who they are.
Its purpose is to "remove the veil of invisibility," Hart said. Students at Georgia Highlands and other colleges face difficulties showing their peers and even themselves who they are because they are scared of negative feedback.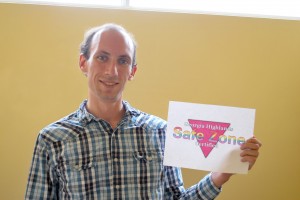 Safe Zone is a place for college students to not feel judged for who they are or issues they may face on a daily basis.
Hart said, "We have invested over 400 hours combined doing research, writing and preparing the manual and preparing the training sessions."
Sean Callahan, assistant professor of psychology on the Marietta campus, GHC executive liaison for diversity and chair of the Diversity Initiative Committee, said, "Chris and Beth are doing very important and much needed work by facilitating Safe Zone training."
Callahan continued, "I've already heard good things about the training session, and I look forward to participating next semester."
Feedback from students has been positive. Gloria Zangal, a nursing major on the Marietta campus, said, "Safe Zone is a perfect program for students in our generation because there are so many issues that come along in our day and age, especially as young adults who are still trying to discover who we really are."
Safe Zone signs started appearing on all campuses Nov. 7. Faculty members who underwent training can be identified by a Safe Zone sticker that will be visible on their office doors.