Alabama Shakespeare Festival sign-ups begins Feb. 2 on all GHC campuses
The 30th annual spring trip to Montgomery, Ala. for the Alabama Shakespeare festival will be held on April 25 and 26.
Sign-ups will begin on Feb. 2 and end on March 2 (unless tickets run out). Sign-ups are on a first come, first serve basis since there are only 55 spots.
The trip is open to any GHC student, employee or guest. A $50 deposit is due at sign-up.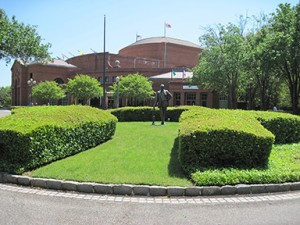 The total cost per person is $135 for a double, $120 for a triple and $110 for a quad. This will cover the hotel, tickets, tour bus transportation and two meals in addition to the hotel breakfast.
The plays shown will be an eight person performance of William Shakespeare's comedy "As You Like It" as well as Shakespeare's tragedy "King Lear."
"The performances at ASF are excellent, and the interaction between students and employees from the various GHC campuses is a lot of fun," said Kristie Kemper, professor of English and ASF trip coordinator.
The group will also take a guided tour of the Alabama state capitol building, which was the final destination of the 1965 Selma voting rights march.
There will also be time during the trip to explore the landscaped grounds around the theater building.
Anyone interested in attending the trip should sign up with the student life office on any GHC campus before March 2.
"It's one of our longest standing traditions and it's always a great experience," said John Spranza, Floyd director of student life.
"If you've never seen live theater before, it's a wonderful opportunity to experience it in a world class setting," he continued.
According to Kemper, all English classes will offer extra credit for students going on the trip and extra credit may be available for other classes as well.
Limited funds will be available to help a few students who can't afford the full trip fee.
ASF financial assistance forms will be available on the college's ASF web page and in all GHC student life offices.
The forms need to be returbed to a student life office by Feb. 16 to be considered for financial help.