Paulding student inspires with his positivity and determination
A motorcycle accident changed the life of GHC student David Carter.
Carter became paralyzed from the mid-torso down when he lost control and fell off his bike in August 2010. He is unable to walk and uses a wheelchair, which entailed major lifestyle changes.
Everything is a new challenge. From getting dressed to driving to a store, Carter has had to re-learn each everyday task. But nothing is impossible to do; it just has to be done differently.
Nothing about Carter's accident has changed his mental or emotional drive to be successful. He has a lot in mind to accomplish and doesn't intend to let being a wheelchair user slow him down.
While his major isn't offered at Georgia Highlands, Carter plans to transfer from GHC to Georgia Southern after acquiring his core credits. He wants to be a recreational therapist for patients with spinal cord injuries to show them how to enjoy outdoor and athletic activities.
Carter has undergone rehabilitation at Shepherd's center, a rehabilitation hospital that specializes in spinal cord and brain injuries. One of Carter's therapists there encouraged him to try water skiing.
He was one of 13 to represent the USA in Milan, Italy, at the World's Disabled Waterskiing Competition, where his team won the gold medal. Last year, at the Nationals Competition in Talking Rock, Ga., Carter was selected to be a member of the team to compete at the 2015 Worlds Championship in California in September.
Two years ago, one of his therapists at the Shepherd's Center called him and asked if he wanted to be among the first generation to take part in the research and development of an exoskeleton that can be independently put on or taken off.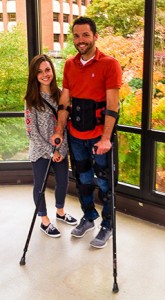 This was created by Parker Hannafin and is called "The Indego." It controls the lower limbs, which allows the person wearing it to walk at different paces, go up and down stairs, stand and sit.
Carter is no longer a part of these trials, but he is one of a choice few who will give a live demo to rehab centers and at expo events.
John Kwist, assistant professor of English, said, "The amazing thing about David is the happiness he brings to those around him in spite of his accident."
Regardless of all Carter has gone through he has kept a positive outlook on life.
"There will always be a possibility of my body fixing itself, but I'm very content with the position that I'm in," said Carter.
He continued, "If I am able to walk again, that'll be great. If I'm not, I'm still going to push as hard as I can to continue living my life as normal as I do with the friends and family that I have."
Carter thanks God daily for having a plan for him. He stated, "It's one of those situations where the limitations that you have are the ones that you allow."