Puppies and a pony make everything better
Several dogs and even a pony caught everyone's attention in the Floyd Student Center on Feb. 10. The animals were present for a special pet therapy session for students as part of Week of Love.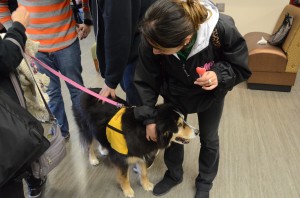 John Spranza, coordinator of student life on the Floyd campus, said the animals were here from the Compassionate Paws organization to help students relax. Spranza said that Compassionate Paws has been at Floyd before for various other events.
Juliana Breithaupt, director of the community outreach and engagement program, said this is the third year in a row that Compassionate Paws has visited for Week of Love. Breithaupt believes the animals act as a bridge for coping, saying "The animals serve as a vehicle to alleviate stress."
Catherine Varidel, coordinate for Compassionate Paws, says the organization was founded in 2007. Varidel says they have approximately 55 pet partner teams who serve Floyd and surrounding counties, where they visit schools to do reading education assistance for children, hospitals, nursing homes and colleges.