Confidential HIV testing now available to students on the Marietta campus
Adebayo Onabule, counselor of student support services, and Abraham Ortiz, student life coordinator on the Marietta campus, have brought awareness to students about HIV screenings scheduled to be held in the Norton building.
The January screening was considered a success by Onabule.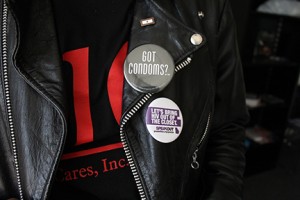 He said, "Even though we had projected to have at least 11 people tested, we blew past those estimates by almost tripling those numbers."
Someone Cares Inc., an Atlanta non-profit HIV-AIDS outreach organization, is conducting the screenings. Its goal is to spread awareness of HIV as well as to eradicate it. Someone Cares' motto is "We are not just an agency, we are a friend."
The screening process consists of giving a sample via a mouth swab, and everything is kept confidential about the students who go through with the testing process.
Onabule is the one who reached out to Someone Cares Inc. to make the screening available. Ortiz was involved with this as well.
Ortiz said that it's "important to bring awareness about what is going on and that it can happen to anyone."
Katherine Russell, a nursing major, said, "I feel like it's a really good idea for students who are scared to get checked."
There are two more dates scheduled for HIV testing on the Marietta campus this semester, March 25 and April 29.
More information on times and locations may be obtained from Ortiz at [email protected].