GHC names Leslie Johnson as new Cartersville dean
Leslie Johnson, associate professor of communication, has now fully taken on the role of Cartersville campus dean, after stepping in last year when the late dean, Carolyn Hamrick, passed away.
Before officially being named the Cartersville campus dean, Johnson had been acting dean while still teaching five classes.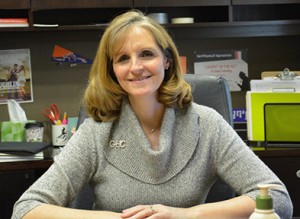 She was able to transition into the position over the last year.
Johnson said, "One of my primary responsibilities is retention, which is to make sure that the students that we have currently at this campus are getting the resources that they need in order to be successful."
"Since she's started, the Dean has really focused on plans to improve retention at Cartersville. This will probably be the most important area of focus for her work – helping us serve students better so they can stay at GHC and succeed," stated Jeff Davis, vice president of finance.
Donald Green, president of Georgia Highlands College, said, "Dean Johnson has done an exceptional job. Her priority is students, and that will be evident as she expands student engagement."
He continued, "She is a big advocate for student degree completion."
Students are important to Johnson, and she even requested that she still be allowed to teach one class a semester even with her new role as campus dean.
Johnson said the hardest part of her new position is juggling the responsibilities of all aspects of the job.
She also stated that she is there to help students either directly or by guiding them to the right department.