Author Lisa Williams speaks on the dangers facing girls and women
Lisa Williams, author and founder and director of Living Water for Girls, spoke on GHC's Cartersville campus on April 2.
Living Water's mission states that it provides assistance to girls and young women survivors of violence, street life and human sex trafficking and exploitation. Living Water offers survivors a safe space to heal from traumatic life events and a chance to pursue educational endeavors and acquire skills to become self-sufficient.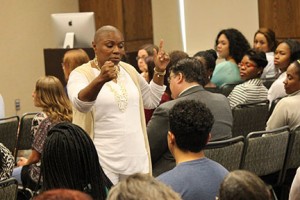 Photographers and press from several outlets were in attendance at Williams's Cartersville presentation, her last stop before heading to the White House for an Easter Prayer Breakfast.
Williams said she had a powerful calling to help all of those other girls who had to endure anything similar to what she had lived through.
She shared some stories of her life as a survivor, describing what it is like now and how she dedicates her life to stopping the violence.
Student Jada Garland said, "It was very powerful and moving. She gave me chills with the stories that were told, and I hope for some of us to make a difference in these situations."
Williams' book, "Beautiful Layers," is a collection of stories from those who survived the life of prostitution and child sexual exploitation.
Jerry Gayton, another student in attendance, stated, "Although we had to be here for a class assignment, it really was a powerful presentation."
He continued, "I never realized that sex trafficking was a problem in the U.S. until she started to speak, and you just couldn't help but hang onto every word that she said and really feel what she was feeling."
Anyone who wants to make a difference can find more information about Living Water for Girls at www.cofcl.org and donate time, money or just learn more about the cause.