Donald Green's presidency of Georgia Highlands College becomes official
The presidential medallion was placed around Donald Green's neck by University System of Georgia Chancellor Henry M. Huckaby on Sept. 18, making him the fourth president to serve GHC.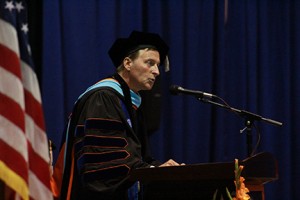 A crowd of more than 400 students, alumni, faculty, staff, community members and state leaders, as well as members of Green's family gathered at the Floyd campus gymnasium, decorated in blue and orange, to officially usher in a new era for GHC.
A number of distinguished guest speakers accompanied Green on stage, including Willis Potts, former chair of USG Board of Regents and Neil L. Pruitt, Jr., current chair of the USG Board of Regents. Potts officiated the ceremony.
Ken Davis, a Vivian Benton Staff Award recipient, referred to faculty and staff as family. "We work together, we play together. We truly care about each other," Davis said.
He quoted Richard Bach as he welcomed Green to the GHC family: "The bond that links your family is not one of blood, but of respect and joy in each other's life."
Speaking on behalf of the students, Holly Chaney, president of the Student Government Association, received a standing ovation following her speech about the impact that GHC has had on her life.
She described her journey to college as an unconventional one, saying that as a child she was put in classes for children with disabilities and thought college was not for her until she turned 29 and enrolled at the Douglasville campus.
Chaney described Georgia Highlands College as one that can "light fires where there may have only been a spark before."
In his speech, Green stated that this day was a time to "celebrate both the college's legacy of student development and its focus on a future of economic growth." A first-generation college student himself, Green emphasized the value of higher education. Green said, "That is the beauty of education; it doesn't just change the individual's life. It changes the whole family tree."
Green concluded his speech by saying, "The future is very bright for Georgia Highlands College. We will continue our legacy and will continue to charge forward."
An outdoor reception immediately followed the ceremony. The day's events concluded with an inauguration gala held on the Cartersville campus.