GHC Floyd campus F-Wing building renamed in honor of George Pullen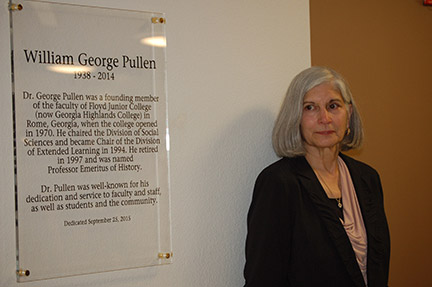 A crowd gathered on the Floyd GHC campus to celebrate the dedication of the former F-Wing to be renamed in honor of W. George Pullen.
Mary Transue, vice president for advancement and executive director for GHC Foundation, Inc., introduced President Donald J. Green, who recognized special guests in attendance: Pullen's family and friends, GHC alumni, GHC Foundation members, retirees, Wendy Davis of the Rome City Commission and current faculty and staff.
Green then spoke about why Pullen's contributions are still important.
Pullen was an activist for civil rights justice, set the groundwork for GHC's recognized affordable excellence in Georgia, participated in global outreach and was a pillar in community involvement.
Pullen served as a member of the Floyd Junior College (now Georgia Highlands College) faculty from the college's beginning in 1970.
He was a history professor and the social science division chair. Pullen also oversaw the college's television network as chair of extended learning.
After retired in 1997, Pullen was given the honorary title of Professor Emeritus of History.
Pullen was a family man, a published academic author, a member of the Rome City Commission for 23 years, a founder and chairperson of the Rome-Floyd International Association and served on the Rome-Floyd County Commission on Children and Youth. He was also co-president of the Rome Area Heritage Foundation 2004-2006.
He served on the Rome-Floyd County Library Board, the Rome-Floyd Development Authority and the Board of Rome Area Council for the Arts.
Pullen was longtime member of Rome Rotary and was a member of St. Peter's Episcopal Church.
Several special guests reflected on Pullen's character and what he meant to them before the plaque dedicating the Pullen Annex was revealed.
Carla Patterson, associate professor of English, was hired in 1994 by Pullen and spoke of his commitment to fairness demonstrated in all areas of his life. She stated, "If we look at the causes to which he dedicated himself–ministry, education, politics, volunteerism, at the core of each is fairness."
Jonathan Hershey, dean of humanities, reflected on Pullen as a mentor and a master in problem resolution, by saying that Pullen had said to him many times, "What are you going to do about it, Jon."
Family members Mary George Pullen-Livesay (Pullen's daughter) and Ann Pullen (Pullen's wife) both spoke with affection about Pullen and thanked those involved in keeping his memory "alive" at Georgia Highlands for years to come.