9th Annual Georgia Radio Hall of Fame Induction Awards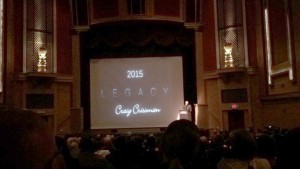 Since 2007, the Georgia Radio Museum and Hall of Fame has been preserving the history of Georgia Radio.
Every year, they honor the men and women of Georgia radio with an award show. On Oct. 24, 2015, the award show took place at the Earl Smith Strand Theatre in downtown Marietta. The awards given for the night were the Legacy Inductees Award, Horizon Award, Elmo Ellis Spirit Award and featured the Career Achievement inductees.
Before the presenting of awards, the less charming pair of their counterparts Randy Cook and Spiff Carner (from Randy & Spiff Unplugged), hosts Pathetic Randy and Pathetic Spiff broke the ice with a funny short film. The short film showed the differences between Randy and Spiff featuring their alternate personas, Pathetic Randy and Pathetic Spiff, through a series of Randy and Spiff completing life goals successfully and their personas not even making in through the front door.
The first awards presented that night were the Legacy Inductees Awards. This award is to honor departed radio hosts who made an influence in Georgia radio. The winners of the 2015 Legacy Inductees awards were Johnny Brown, Wayne Brown, Don Carle, Jay Clark, Hugh Christian, Craig Crissman, Michael Faherty, Chris Morgan, Paul Reehling and Ben Tucker. Video reels were played for each of the winners showcasing their lives. Family members and friends accepted on the behalf of the inductees and reminisced about their impact on Georgia radio. The wife of Mike Fatherty recalled their first date in 1960 and how he told her that his lifelong dream was to do radio.
The next awards presented were the Horizon Award and the Elmo Ellis Spirit Award. The Horizon Award is awarded to young Georgia radio professionals that are between the ages of 21 and 30. These young radio professionals exemplify the commitment and passion of Georgia radio. The 2015 Honorees were Joshlyn Dennis and Mike Kelly. Dennis is a radio host for Valdosta's 96.7 and Kelly is a host for Kissin' 99.3 Columbus. Peter Maer won the Elmo Ellis Spirit Award. Maer is a recent retiree from CBS News White House Correspondence. Before the White House, Maer covered the Atlanta city government and other Georgia state governments.
The last awards presented were the Career Achievement Inductees. The 2015 Inductees were Deane Clark, George Mason Dixon, Greg McClure, Bob Noble, Mary Catherine Sneed, Christie Tamer, Allen Tibbets and Larry Tinsley. This award honors the current achievements these radio hosts have accomplished.