Georgia Highlands women come together in Douglasville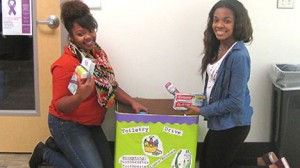 Woman 2 Woman will be hosting a toiletry drive at the Douglasville campus from now until Nov. 30.
According to Ruby Baldwin, the Douglasville Woman 2 Woman President, this drive is in recognition of Domestic Violence Awareness Month. October is Domestic Violence Awareness month but donations will continue until the end of November. All donations are to be dropped off in the donation boxes, which are located in the student center as well as in the HUB.
Items needed include shampoo, conditioner, toothpaste, toothbrushes, soap, lotion, body spray, combs, hairbrushes, toilet paper and other essential toiletries. All donations will go to survivors of domestic violence seeking shelter at the Share House Woman's Shelter for Domestic Violence in Douglas County.
GHC Student Life page states that, Woman 2 Woman's purpose is to connect and support the women of GHC, to help them pursue and achieve their goals and share their gifts and ideas.
Woman 2 Woman members believe strongly in developing communication skills, volunteering in the community, as well promoting the well-being of women in all aspects of their lives. Woman 2 Woman is active at both the Douglasville campus and the Marietta campus.