GHC exploring more bachelor degree options
Since becoming a state college in 2011, Georgia Highlands has implemented two four-year programs and is looking into adding more.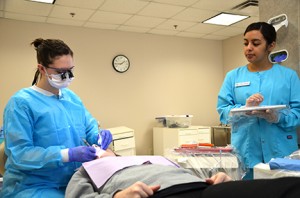 The nursing department of Georgia Highlands now offers a Bachelor of Science in Nursing (BSN) program which was introduced in 2014. The other four-year program currently being offered at GHC is a Bachelor of Science in Dental Hygiene (BSDH), which was first offered in the summer of 2015.
Georgia Highlands is currently discussing adding two business administration degree programs. According to the Vice President of Academic Affairs, Renva Watterson, "One will be in Health Care Management and the other in Supply Chain and Logistics Management." However, neither of them has been approved yet.
According to Dr. Alan Nichols, the dean of social sciences, the success of GHC as a state college depends on the success of its four-year degree programs. He says that the two-year degree programs currently awaiting approval should attract international students, which is "an area we are developing under the guidance of Dr. Don Green, GHC president, and Dr. Bronson Long, director of global initiatives and study abroad."
He also said, "Given the large amount of healthcare in Floyd County and the amount of heavy industry in Bartow and surrounding counties, Highlands should be able to attract more domestic students as well."
Elijah Scott, the dean of libraries, college testing, and curriculum innovation, stated that GHC's goal is to find careers that are high in demand and offer the training and education required to get these jobs. He said "this ensures that we put resources behind new degrees that will offer the greatest potential employment benefits, in terms of both salary and employability for the communities we serve."
Several students are finding Highlands' new four year degree programs to be more affordable and convenient than other alternatives. Sophomore student Andrea Mendez, a pre-nursing major, is considering the four year nursing program. Andrea says, "This program will help me reach my goals and to become a better person. It's great that it is being offered here because it's closer to home and I get to be around my family more often."
Freshman, Makala Holtzclaw who is planning to continue her education through GHC's dental hygiene program and said, "It will definitely help me find a job in the future! The hard work is worth it."