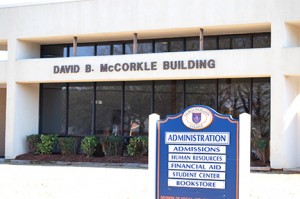 David McCorkle, founding president of Georgia Highlands College (formally known as Floyd College), passed away during the 2015-2016 winter break on Dec. 19, 2015.
McCorkle's post-high school educational history began at Georgia Southwestern. He graduated in 1941 with a provisional elementary teaching certificate and a junior college degree.
While working at Wesley Grammar School, he was drafted into the Army and was honorably discharged later on as a staff sergeant. He then attended the University of Georgia, receiving his bachelor's, and while there he met his future wife, George Hice.
Shortly after the McCorkles welcomed their first daughter, the family packed up and moved to Oregon, where McCorkle would pursue a doctorate in education.
After receiving his doctorate, McCorkle served in positions such as director of student activities and director of student personnel in Mississippi and later was appointed the first president of Floyd Junior College in Rome.
McCorkle served as president from 1970 until his retirement in 1991. After retirement, McCorkle was named President Emeritus of the college, and in 2015 the name of the administration building on the Floyd campus was changed to reflect his name.
Donald Green, current president of Georgia Highlands, said of McCorkle, "Dr. David McCorkle was visionary, thoughtful and tireless as president of GHC. Words cannot fully express my gratitude for the leadership Dr. McCorkle provided. He created a culture of access, service, affordability and excellence that we continue at Georgia Highlands College today."