"Online is the fastest growing campus, and it is the largest in the summer," said Diane Langston, dean of academic elearning.
Many students have enrolled in some form of elearning classes but do not necessarily know the differences between the types of classes or the options related to online courses. Highlands currently offers four different types of elearning classes: WEB based, eCore, eClassroom and hybrid learning.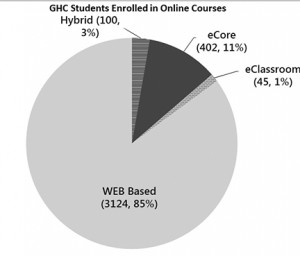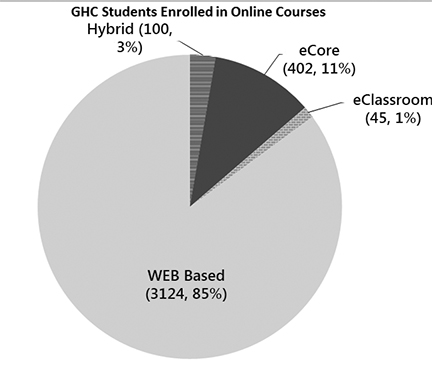 WEB based courses are taught and participated in strictly by Highlands staff a completed entirely online. Online exams may employ the use of Respondus, a program geared towards the prevention of cheating.
ECore courses are similar to WEB based and are completed entirely online. ECore also features its own version of Respondus, called ProctorU. However, eCore classes can be instructed by any teacher from the University System of Georgia, who may not necessarily be a professor from Highlands. These courses cost more, but usually have free textbooks. Students who enroll in only eCore classes will also receive a fee break.
EClassroom courses require students to tune in to and participate in video chats with their instructors and fellow students on a regular basis.
Hybrid learning is a middle ground between traditional and online classes, being anywhere from 50 to 95 percent online and requiring some class meetings throughout the semester. Langston pointed out that students in the hybrid classes tend to be more successful than those in other elearning courses.
All options require the student to attend a testing center in order to take midterms and final exams. Testing centers are not necessarily at a GHC campus. Locations range anywhere from a public library to a Sylvan learning center eliminating the worry of planning a road trip to take exams.
Leslie Tyrell-Payne, senior academic adviser of elearning, stated that several degrees can actually be completed entirely online. Highlands' current four-year programs in nursing and dental hygiene can be completed online, but only after the student receives their associate degree in dental hygiene or nursing, respectively.
ELearning is also a huge contributor to the Nights, Online and Weekends (NOW) program, which aims to get adults back in school to complete their degrees. With the slogan of "go back, move ahead," the NOW program incorporates various online and hybrid classes in its efforts.
Tyrell-Payne also explained that Highlands has a partnership with the University of Georgia that allows students to receive a Bachelors of Business Administration degree from UGA entirely through online courses. According to Tyrell-Payne, UGA wants students who have already completed their associate degree to enroll in this program. All students enrolling must also meet the standard requirements for admittance to UGA as well as have at least a 2.8 GPA.