Road construction affects Cartersville campus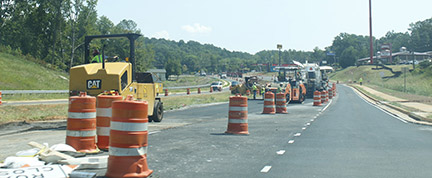 Students and staff arriving to the Georgia Highlands Cartersville campus are currently greeted by a parade of traffic cones, dump trucks and construction workers in bright orange vests.
The air is filled with dust, and cars line up bumper-to-bumper at each stoplight in front of the school.
It's not uncommon for students to hear sirens blaring by as they sit in their 8 a.m. class as police cars rush to the scene of a confusion-caused fender bender after lines in the road have been changed once again.
According to the Georgia Department of Transportation, the construction began in September 2013 and is not only widening state Route 20 from two to four lanes, but it is also relocating the highway for better access and shorter travel time to Highway 411.
The Georgia DOT says the project is 67.26 percent finished, and although the construction was set for completion in May 2016, they have tacked on several extra months, leaving the current completion date for March 2017.
Leslie Johnson, Cartersville campus dean, has a front-row seat to the construction zone from her office window.
Not only does she hope it will be much more aesthetically pleasing once the project is completed next spring, but she also hopes the shorter route created will bring in a higher traffic of students to the school.
She also mentioned the frustrations students and staff face when driving to the campus, stating, "It's definitely a daily challenge, not knowing which lane you're going to be using that day."
Vehicles have been redirected by bright, round barrels, and completion of a new lane caused the flow of traffic to change overnight.
One student, Justin Hite, said, "It's stressful and frustrating. Especially when you go to make the same turn you always do, and all of a sudden it's blocked off and you have no idea where to go."
Although the completion of the construction project brings promise of easier access and shorter travel times for people travelling between Highway 411 and SR 20, students and staff at the Cartersville campus can expect at least one more semester of traffic and lane changes.