Students benefit from campus yoga classes at Douglasville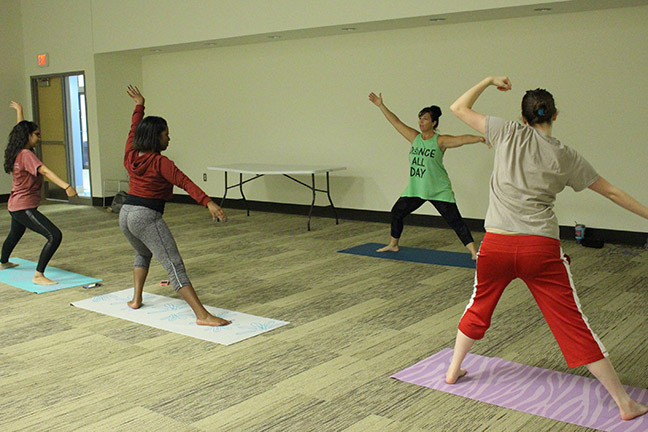 Yoga lifestyle classes have been taking place at the Georgia Highlands Douglasville campus.
Every Wednesday since Oct. 26, yoga and dance instructor Angie McCanham has been conducting a yoga and fitness lifestyle class called "Zen." McCanham is a dancer, trainer and life coach who also teaches Zumba classes in Dallas, Ga.
She said the class is for all fitness levels and that "it combines several facets of yoga."
Zen features training from traditional yoga such as sun salutations, standing strength and balance routines. It also incorporates other common forms of fitness.
Tai-Chi is offered to calm nerves and center one's breathing while energy flows through the body.
Pilates is also offered to help strengthen the core and back and gain inner strength and tone muscles.
Flexibility is also part of the program to help release tension, elongate the spine and keep joints safe. Every class ends with 10 minutes of stillness and meditation.
"It's the balance we all need to settle and recharge for the demands of our busy lives," said McCanham.
The last class will take place on Nov. 16 in the Douglasville campus student center from 12:30 to 1:30p.m.
For more information on other activities coming to the Douglasville campus, Lyric Sprinkle, the Douglasville Student Life coordinator, can be contacted at [email protected].