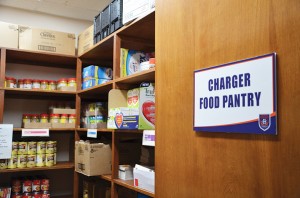 The Charger Food Pantry provides assistance to students that are experiencing food insecurity. Students can visit the pantry once per week to obtain essential items such as canned food, dry goods and toiletries.
According to Angela Wheelus, director of student support services, non-perishable item such as body wash, toilet paper, detergent and hand soap are among the important items needed at this time.
Pantries where students can make selections are available at the Cartersville, Floyd and Douglasville campuses. Marietta and Paulding campuses also provide assorted items ready for pick-up.
Wheelus said, "Holidays are an especially hard time for students. When students use the food pantry, it helps alleviate some of the stress."
In order to participate in the Charger Food Pantry, students must sign an application form and show a GHC ID. After a student checks in, he or she is given a bag and may choose up to 12 items. Students can visit the pantry once a week.
John Spranza, director of Student Life, said, "Having a food pantry at the college has been a long-time goal. It is exciting to see it up and running."
Spranza said, "A lot of our students have taken advantage of the food pantry and are appreciative of the assistance."
Collection bins for pantry donations are located around all of GHC's locations. Donations of non-perishable food or toiletry items may be left there.
GHC has also joined forces with Action Ministries, a food distribution center for Northwest Georgia, to help keep the pantry fully stocked.
Anyone wishing to make a monetary donation to GHC's Charger Food Pantry may do so at any GHC business office in Rome, Cartersville, Marietta, Paulding or Douglasville.