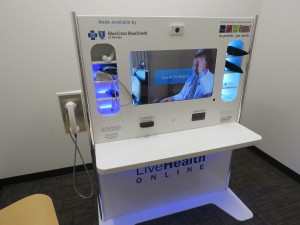 GHC has partnered with the University System office to pilot a LiveHealth Online Kiosk, courtesy of Blue Cross Blue Shield.
The kiosk, located on the Floyd campus, allows students and employees to video chat with a doctor. It is designed to be like a standard office visit and is not for emergency situations.
The kiosk is in the soundproof Walraven room W-320, and the key can currently be accessed in the Human Resources office. The HR department hopes to eventually install a card reader so that the kiosk can be accessed via GHC's ID cards.
Virginia Siler, vice president and chief human resources officer, said, "The good thing about it is that you can, if you're on the Floyd campus, come get the key from us, go into that space and in just no time be in front of a doctor."
The cost is the same as a patient's copay with Blue Cross Blue Shield or $49 otherwise. The kiosk takes credit and debit cards.
An individual can set up an account on the LiveHealth Online website in order to have his or her information available at the time of the visit; however, an account is not mandatory in order to go to the kiosk.
A variety of tools such as a thermometer and blood pressure cuff are available on the kiosk to help the doctor get a better idea of what the patient's medical needs might be. People who use the kiosk are asked to use the provided antibacterial wipes to wipe down the tools and touchscreen after use.
Students and employees on other campuses can use their devices to access LiveHealth Online.
Wellness Coordinator for Human Resources Emily Farmer said, "Of course people can use their computer and do the same thing to access LiveHealth Online. They advertise on television to do this, but you don't have those instruments available, and that's one of the biggest advantages of this."