SMP recognized at press institute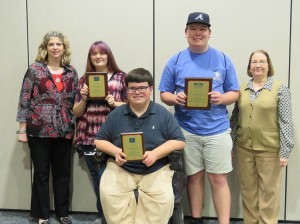 Representatives of the Six Mile Post went to the 66th Annual Southern Regional Press, which was held Feb. 23 and 24 at Savannah State University.
The theme was Ethics and Accuracy in a Digital World.
Joshua Mabry, Joe Webster, Kayla Jameson, Assistant Adviser Cindy Wheeler and Adviser Kristie Kemper attended the conference to represent the SMP.
The conference began with speaker Michael Ottey, journalist. He has a travel blog https://miketendstotravel.com/ and often livestreams his journeys.
He spoke on traveling the world and how he got to where he is in his career.
Ottey said that students should "get out there beyond the university and see the world." He continued, "Get out of your comfort zone; persevere."
Many of the sessions were led by professional journalists and broadcasters.
The luncheon started with Ernie Suggs, a reporter for the Atlanta Journal Constitution, speaking to the attendees.
At the awards luncheon on the 24th, awards were given out by categories of college, small university and large university.
The Six Mile Post received second place in general newspaper competition.
The SMP also received first in the online newspaper category with Editor-in-chief Jameson and former Chief Photographer Taylor Barton winning second for feature writing and second for photography, respectively.