GHC student is set to perform at Rome Symphony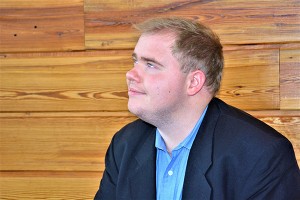 Ryan Kingsley, music student at GHC, will be performing with the Rome Symphony Orchestra on April 29 in downtown Rome. Kingsley will be performing the aria "Non piu andrai" from Mozart's "The Marriage of Figaro."
Kingsley is one of three winners of The Rome Symphony Orchestra's Young Artist Competition held Feb. 15 at Shorter University.
Sam Baltzer, GHC professor of music and conductor of the Rome Symphony Orchestra said, "I was so pleased to see that Georgia Highlands had a student in the RSO Young Artist Competition.  It's a sign of the growth of our music program."
Baltzer said, "When Ryan began his audition, I knew immediately that he would be a contender.  He has a wonderful voice, and he also sang with expression and feeling.  I'm very proud of Ryan and his teacher, Julie Carver. I look forward to conducting his performance. I hope the GHC community will come out to support Ryan."
Several colleges and universities showed up for the competition Kingsley stated, "The idea was nerve-racking. Two instrumental performances were selected and a single female and male were selected from the vocal performance."
Kingsley further explained that the performances were planned on a timely schedule so he did not have to stay at Shorter all day.
Kingsley stated, "My vocal instructor Julie Carver focuses on execution of music through arias (mindset of character and their motives) and the recitatives (actions of the story)."
Carver has a degree from Shorter in Piano Performance and has been working with Ryan since August 2016.
Kingsley has been performing vocals since fifth grade. He has toured Italy, Vatican, Ukraine, Russia, the Czech Republic, Austria and Alaska several months at a time from 2005 until 2016.
In these countries, he performed several Mozart pieces and fragments from Italian composers with the Atlanta Boy's Choir.
Kingsley said, "Dealing with classicism and classical music, you deal a lot with French, Italian, and German.