Georgia Highlands student experiences Chinese culture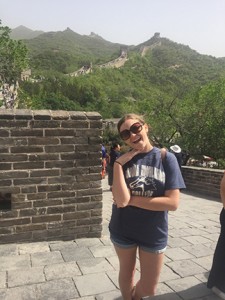 Samantha Tate, a sophomore at the Floyd and Cartersville campuses, traveled to China this past summer, accompanied by Denie Burks, assistant professor of business.
Both Tate and Burks responded to the trip announcement from Bronson Long, director of global initiatives and study abroad at GHC. This trip was organized by the University System of Georgia.
Burks had already travelled to China on previous occasions, but had never visited the Great Wall. Tate had ventured to Australia in 2012, but had no other international experience.
This trip was the first study abroad experience for both Tate and Burks.
Their journey began on May 8. After an 11-hour flight, the pair landed in Beijing, where they began the first part of the trip. During the course of the trip, they travelled to Beijing, Xi'an, Zhengzhou and Shanghai. In these cities they visited many traditional tourist attractions such as the Great Wall, Terra Cotta Museum and Shaolin Temple.
On May 14, Tate and Burks arrived at Zhengzhou University. Here is where Tate would experience the most of what Burks calls "multi-sensory, holistic immersion." At the university, Tate, who is studying foreign language, experienced life as a Chinese college student. She stayed in student housing and attended two university classes: Introduction to Sociology and Sociology of Photography. She was paired with a Chinese student studying English, who would act as her interpreter as well as her guide.
After 28 days, Tate and Burks returned June 4.
Both learned something new about themselves as well as other cultures. Burks says she is more patient with herself and with other people when she travels, while this trip allowed Tate to learn that she is "more outgoing" than she thought she was.
Read Samantha Tate's Personal Account of Her Trip to China