GHC plans to modernize Floyd campus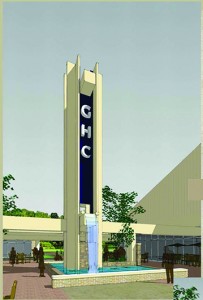 Floyd students are beginning to notice changes on their campus, primarily the interior remodeling of the Walraven building.
It has been confirmed that the Floyd campus can expect more renovations in the near future.
Vice President of Finance and Administration Jeff Davis said that the Floyd campus can expect "endless remodeling and renovating" over the next few years.
The purpose of these changes is to update appearance and efficiency of the campus.
Both Davis and GHC President Donald Green agreed that the interior of all Floyd buildings were outdated.
Green even stated that at the beginning of his tenure at GHC the interior of Floyd "looked like a prison."
The renovations occurring in the Walraven building last semester were just one of the many projects in store for the campus.
Currently, visitors and prospective students to the Floyd campus park in the visitor parking spaces between the Lakeview and Administration buildings.
Because of this, the arrival point seems to be "that triangle room." Davis stated that one future project is to "shift arrival point for visitors to the garden between the president's office and the Walraven building."
Other planned projects include improving pedestrian access from the Lakeview building to the other buildings. Currently, students must walk long distances from the entrance of Lakeview across campus.
As a solution, Green said the parking lot between Lakeview and Administration will be converted to green space with a walkway.
Another proposed project includes adding a deck to the back of the library with direct access to Paris Lake. Green said that as a school "our backs have been turned away from the lake."
Ideas for renovations were not only those of Davis and Green. Students also had input in the design.
Corbin Turner, a third year business major, stated, "More updated and modern buildings, both internally and externally…" is an improvement he would like to see continue.
Davis and Green assure future construction will be no more dramatic than what has already occurred in the Walraven building saying, "No buildings will be taken offline."