Jerlisa Dennis juggles raising children, work and school at GHC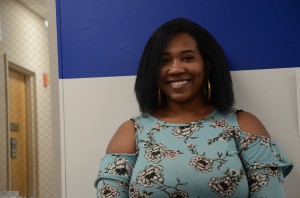 Balancing college classes and a manager position at a restaurant while being a mother to five children is not for everyone. But this is Floyd campus student Jerlisa Dennis's daily schedule.
Dennis said that balancing all of these facets of life is very difficult. Dennis is a nursing major at GHC and a full-time manager at Taco Bell in Cedartown.
Dennis revealed that she has made a balanced schedule for herself that makes her life not quite so hectic. She explained, "I get very little hours of sleep, but I get everything done and manage to find a way to work around school hours."
On Mondays and Wednesdays, Dennis comes to classes, but does not work. She said, "Those nights, I have cook time, homework time and get everything finished before work on the other days." Dennis works every other day except Sunday. "Sunday is get the house together, laundry and stuff like that day."
Dennis said about her schedule being like it is, "I get overwhelmed, but I never give up."
Dennis enjoys taking classes at GHC. She decided to come to GHC because it was her closest and best option considering how much she has going on in her life.
Dennis said, "I think it's better for me to focus on school specifically the two days I do use for school because I don't want my grades to get behind versus trying to make more money because I am comfortable with the money I make now."
Dennis hopes to become a registered nurse (RN) soon. She will be getting her CNA from the organization "CPR With Mickey" in Dallas, Georgia, and will then be applying for the nursing program at GHC in April.
Dennis confessed that she wants to become an RN because she loves babies. She said, "I have five babies, and I can't have anymore because I can't afford them efficiently. So, I want to work in labor and delivery where I can see babies for the rest of my life every day."
Dennis believes that her biggest challenge to overcome was being pregnant twice in high school. Many longtime friends turned their backs on her.
One person that continued to support Dennis was her mother. Dennis said, "My mom was mad at me, so we kind of had a distant relationship through the way, but my mom was always my reliable babysitter since my first job when I was 15. Even with her being mad at me, she didn't leave me."
Dennis said, "My favorite thing about coming to Georgia Highlands is probably the teachers and the students. With having so many kids at a young age, I don't get to interact with my other friends like normal, so being here kind of gives me a relief."
Dennis then said, "I can talk to people and be my normal 25-year-old self. There's no responsibility. I don't have to worry about taking care of anyone here. They take good care of me here and the teachers are very nice and understating about a lot of things."
Dennis said she loves being in class with students straight out of high school.
Dennis revealed, "I love listening to the new gossip because being a young parent, I want to be able to keep up with my children. When I hear the students saying new words, I go home and repeat them and my kids think I'm crazy."
She continued, "I like keeping up with what's going on because it opens my eyes to things my kids are going to be closer exposed to, so that way, I, as a parent, know how to cope with that."
Many students that are in class with Dennis say that having her in class is like having a mother in class because she always has items such as pens handy. About this, Dennis said, "I love it because that means at home, I'm somewhat doing the right thing."