Special Topics courses in Area B are changing at GHC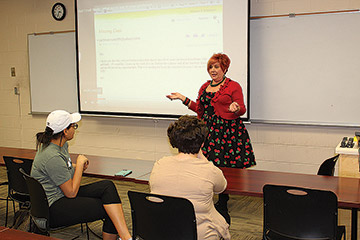 GHC's Area B offerings are undergoing change, with FCCS 1100 and FCST 1010 being eliminated.
In the past, students have fulfilled the four to five credit hours in this area with COMM 1100, FCCS (Freshman College Computer Science), FCST (Freshman College Studies) or a Special Topics (2901) course.
Special Topics course offerings are the big change in Area B curriculum. With FCCS being discontinued soon, students will now have a greater opportunity to choose a Special Topics course.
Special Topics courses will also now be weighted as two credit hours. These courses come from all different disciplines and are open to any student needing to fulfill that Area B requirement.
They are taught by professors who focus on one very specific topic.
Special Topics offered in the past have included Hispanic Cinema, Psychology of Women and Vocabulary Building.
The addition of more 2901 courses will also give students the opportunity to explore different fields of study that they may not have known they were interested in.
Crystal Edenfield, program manager of new student and retention programs, said that Special Topics classes will help students "get their feet wet in that discipline in a more engaging way".
Both Edenfield and her colleague Jesse Bishop, instructional Designer II and director of faculty academy, agree that having students take a Special Topics course to fulfill Area B will benefit the "first-year experience."
Edenfield described the "first-year experience" as the students' transition from high school to college where they begin to establish their pathway and where they want their future to go.
Area B is part of a GHC student's curriculum requirement that has the outcomes of effective communication skill, information synthesis and articulating the relevance of a topic.