'Six Mile Post' receives awards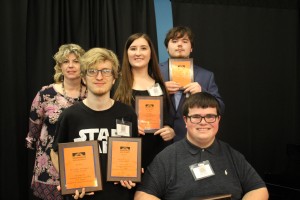 Representatives of Georgia Highlands College's newspaper the "Six Mile Post" attended the 67th annual Southern Regional Press Institute, held at Savannah State University on Feb. 22 and 23.
The theme for the conference was sports journalism in the era of politics and protest.
Representatives from the SMP attending included design editor Joseph McDaniel, online editor Nick Whitmire, editor-in-chief Catie Sullivan, and sports editor Joshua Mabry.
Assistant advisor Cindy Wheeler and assistant professor of communication Allen Dutch also attended.
In the opening session of the conference, a speech was given by Gary Howard about his experiences rising through various positions working at newspapers.
The sessions were led by a number of media professionals, who were well equipped to deliver valuable skills.
Session instructors included professors from Savannah State, television news producers, freelance photographers and journalists as well as professors from other colleges.
Topics of the sessions ranged from sports journalism, to editorial cartooning, to the production of independent films.
Students who specialize in any niche of news or broadcasting were provided with specific sessions to attend.
Wheeler said, "There was a nice mix of workshops, as usual, and the students always benefit from them."
After two days of sessions, the conference ended with an awards luncheon presided over by the men and women of the SRPI who organized and held the event.
Individual awards the Six Mile Post received in the small college division were a second place photograph by Xavier Freeman, a second place sports story by Josh Mabry and a second place editorial by Gage Walker.
The "Six Mile Post" also received awards in the general category. These awards included first place for website and then second place overall.