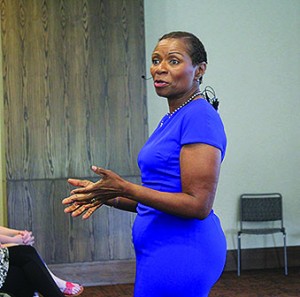 Lisa Williams spoke at GHC's Cartersville campus on April 25. Williams is the founder and president of Circle of Friends; Celebrating Life, Inc. This organization works to educate, provide assistance and stop sex trafficking. Williams said, "Young men and women need to be aware of what is going on around them on college campuses and be able to detect human trafficking in their communities."
Williams' key ideas in her presentation were that human trafficking can happen to anyone regardless of age, race, sex or gender and that assistance to those who have been victims of sex trafficking is necessary. Williams said, "This kind of stuff happens anywhere where there are people with skin; it happens anywhere and everywhere."
Stacie Davis is the program manager of the Sexual Assault Center of Northwest Georgia and she attended the event to also show her support against sex trafficking. Davis said, "College campuses are the breeding grounds for sexual assault and in most cases 9 out of 10 occurrences happen with someone who is not a stranger, they are people you know and go to school with."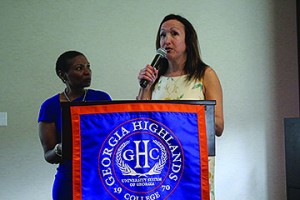 Williams explained how a victim she helped named Rachel was able to advocate for the passing of a law to provide mental and physical healing to those affected by sex trafficking with the aid of Williams. The law was passed and is known as Rachel's law.
Alexandra MacMurdo, assistant professor of communication and assistant director of global initiatives helped oversee the event and she said, "We need to not only raise awareness but be aware ourselves. We need to be aware now more than ever."
The event was followed by refreshments and socializing. Students and faculty who attended the event could pick up brochures and a self-defense keychain from the Sexual Assault Center of Northwest Georgia.