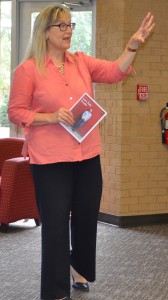 #Adulting is a series of programs that Student Life started providing to students in the fall of 2017 and  aims at helping students begin their adult lives.
The #Adulting series  is being offered free to students in all campuses throughout the 2018-2019 school year.
The series of programs teach students about finances, mental and physical health, organization and other skills adults need.
Programs have included bankers coming to talk to students about building credit, lessons in etiquette and how to grocery shop smart.
Kathleen Gibbons is a banker from Wells Fargo who taught students about debit and credit as a part of the #Adulting series this semester.
Gibbons said, "When you are young you make a lot of mistakes, and those mistakes can be expensive. We want to help students avoid expensive mistakes."
Floyd campus student Kenechi MgBodile said, "The people that come to talk to us for the #Adulting series are very informative and straight to the point, and they seem very willing to help."
Upcoming in the #Adulting series for the fall semester is a session on taxes in November and in the 2019 spring semester the #Adulting series will include a cooking on a budget class taught by the famous Chef Egg, as well as sessions on insurance and cleaning hacks.
Student Life Director, John Spranza said, "Adulting is hard. Being out on your own and living with your parents, there is a lot you are expected to know that you don't know yet, and it can be hard to find help."