GHC chemistry program spotlighted at USG Board of Regents meeting on Feb. 12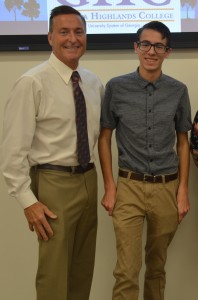 For the first time ever, GHC was selected to be the college recognized in the Campus Spotlight at the Board of Regents' monthly meeting.
The Campus Spotlight is an initiative that started in 2017 to allow the Board of Regents of the University System of Georgia to be in closer touch with students, academic programs and faculty at various colleges.
The GHC chemistry program was featured at the Regents' meeting in downtown Atlanta on Feb. 12.
The presentation, lasting about 20 minutes, was made by Don Green, GHC president; Sarah Tesar, interim dean of natural sciences and physical education; Erin Kingston, instructor of chemistry; Tony Hernandez, a dual enrolled student and a learning assistant; and Jacob Pirkle, GHC student. It described the major stride for student success being made by GHC's Chemistry program. The Chemistry program was chosen in late November for the spotlight by Tesar, Green, and the GHC Marketing team due to its recent improvements toward student success.
The improvements presented at the Board meeting included the switch to Openstax Chemistry courses, Peer-Led Team Learning and the development of the GHC Chemistry YouTube channel as well as a free Library Guide.
The Board meeting began with Green introducing the Campus Spotlight presentation, titled "Charging Up Chemistry."
Green was followed by Kingston explaining why GHC did this. Kingston was followed by Hernandez, who explained Peer-Led Team Learning, which is one-hour study sessions where excelling students will walk other students through fun activities such as Nomenclature Bingo to make studying more active and enjoyable. Hernandez was followed by Pirkle discussing the new classroom experience.
This Campus Spotlight has been important for GHC, according to Tesar, "Faculty and students already know GHC is great, but this is a chance for us to tell others why GHC is so awesome."
The chemistry department was given the Affordable Learning Georgia grant: a large-scale grant to go towards making textbooks and other resources more affordable for students.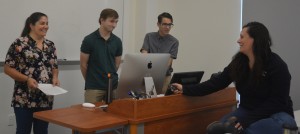 In 2016, GHC also received funding from the University System STEM Initiative. This extra funding has been instrumental to making all improvements.
According to Tesar, students often run into barriers or struggle with success in STEM courses, and GHC's chemistry programs aim at increasing students' success.
Preparations for this presentation began in early Dec.ember 2018 following the announcement that GHC had been chosen by the Board of Regents to be the next Campus Spotlight.