There is a great passion for mental health awareness coming from GHC and its student support counselors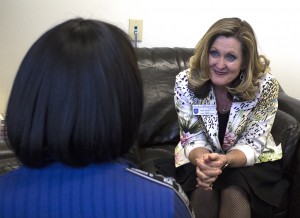 "Are you injured or are you hurt? is a question Student Support Services counselor Kris Reyes reflects on from his office in the Student Support Services Center, during a sit-down on mental health and wellbeing.
Reyes, an athlete in his youth, had separated his arm in a game, prompting his coach to ask this question. However,
Reyes did what many students struggle to do when their wellbeing is put into question, he advocated for himself.
Reyes has been a counselor for 10 years but is relatively new to Georgia Highlands. He was employed at the college six months ago.
Reyes grew up a military brat. His father was the first Filipino sergeant in the Marine Corps, and moving around was commonplace, but the topic of mental health was not.
The military community, though involved and united, were mute on the subject of emotions.
"We didn't discuss them, just picked them up. That's what we do; we own it over time," he notes. This mentality is not limited to young people and students of military families.
Many students have this mindset. Reyes admits demographically men of color are less likely to seek out help, whereas female students are more receptive to the idea of getting aid.
Reyes said, "If we're feeling bad and we do the same things, it won't get better."
He cites that students that do manage to attend counseling sessions, exhibit anxiety and depression, but he is not a fan of diagnoses. "The moment we identify that we stop knowing who we are," he said.
Projects like the Elevation House, a project in which Reyes is actively involved, embodies the idea that those that struggle mentally are still in fact people.
The Elevation House brings together those with mental illnesses through employment opportunities and life skills.
They can express themselves to be productive members of society, normalizing the taboo topic of mental health.
As Reyes points out, "Stigma goes away when you're around it."
He is open and willing to talk to all GHC students in the Student Support Services office.