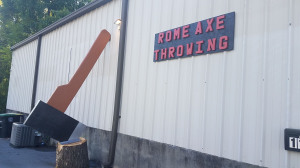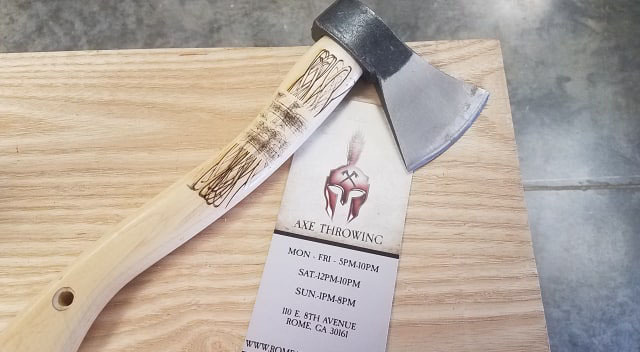 Students looking for a new and different way to blow off steam during midterms may want to visit Rome Axe Throwing for a unique workout experience.
"It's a little bit safer and a little bit less expensive than going out and drinking to blow off steam," joked owner Jeffrey Burke.
Burke first experienced ax throwing when a friend encouraged him to try the sport. "We had a blast," he recalled. After returning home, he built his own target and started throwing axes every day. Before long, he had decided to open a business dedicated to his new hobby. "Rome needs more things to do that are not out doors oriented." Burke said. The axe throwing venue is indoors, so visitors can enjoy the facilities no matter what the weather is like outside. For Burke, safety is one of the most important parts of his business.
Rome Axe Throwing has coaches who not only teach visitors proper technique and form, but also enforce safety procedures. The axe throwing lanes are clearly marked, with lines on the floor to keep throwers a safe distance from their targets. Even the material of the axe handles was chosen to eliminate the risk of axes bouncing off of targets. Axe throwing allows people to enjoy a "dangerous" activity in a safe, controlled environment. "You're taught not to throw sharp objects," Burke said.
"But here you can come and throw sharp objects." Axe throwing can also be a unique and challenging way to switch up a workout routine. It requires the use of muscles that aren't engaged in a typical workout, and is much more physically intensive than many people realise.
"Most people who come in here and throw for an hour, by the time the hour's up they're exhausted," said Burke. Although it can be intimidating to pick up and throw an axe for the first time, the coaches compare axe throwing to pitching a baseball — it's all about aim, not speed. Rome Axe Throwing typically charges $25 per hour, but college students get a $5 discount. The venue also hosts a college night every Friday, where students of local colleges only pay $15 per hour. They also offer group rates for anyone who wants to get some friends together for a little competitive fun.