Wyoming spots now open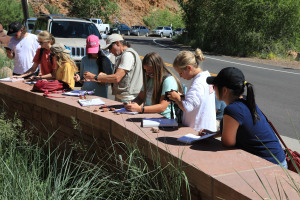 Science and adventure collide in a three-week summer field course, and spots are still open.
GHC offers a summer program allowing students to earn a total of eight natural science credit hours while studying in Wyoming.
The Grand Canyon, Old Faithful and Grand Teton National Park are a few destinations students will visit. Course activities will include field mapping, fossil collecting and geothermal study.
Classes start on June 8 in the geology lab on the Floyd campus. A week later, students fly from Atlanta, Georgia to Denver, Colorado. From there, mini-bus will be the means of transportation to Casper, Wyoming.
After the journey, classroom walls disappear and the ground beneath is the book to be studied. These weeks of study will cover Geology 1121K and 1122K. The trip concludes when students return to Georgia on June 27.
Geology Professor Billy Morris developed this program and has planned the trip for the last 23 years. Morris says he chose Wyoming because of the "wide variety of minerals, rocks and fossils from every geologic time period."
This state has many geologic features such as volcanoes, glaciers, faults and coal deposits. The trip is bundled into a package that covers round trip airfare, all ground transportation in Colorado and Wyoming, boat transportation, all lodging, museum and park fees, use of course materials and other amenities.
Tuition and fees for the classes will be separate. Certain financial aid may be applicable. Interested students should contact Morris to sign up immediately. "My greatest privilege on this trip is leading students through the experience of becoming a geologist," said Morris