GHC's Douglasville campus revamps student center options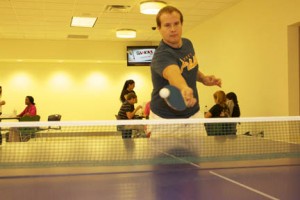 Students at the Douglasville campus arrived this semester to find new additions to the student center.
New pool and foosball tables were added, along with the ping pong table from previous semesters.
In addition to the new gaming equipment, a new flat screen T.V. was installed in the lobby so students can now check the news or catch the highlights from last night's game.
The equipment was purchased through BMI Gaming. The new tables arrived two weeks before classes started. This was a pleasant surprise, according to Lyric Sprinkle, Douglasville student life coordinator, considering the tables were on back order and were not expected to be delivered until the end of September.
Purchase of the new gaming equipment was approved by Rob Whitaker, the vice president of finance and administration at GHC.
Students can be found enjoying the additions throughout the day, taking a break between classes or catching up with friends over a game of pool.
Commenting on the new games, K.C Louis, a freshman computer science major, said, "I think it's really fun. It brings a lot of people together. It also adds an aspect of competiveness."