New student center at GHC Cartersville campus – with slideshow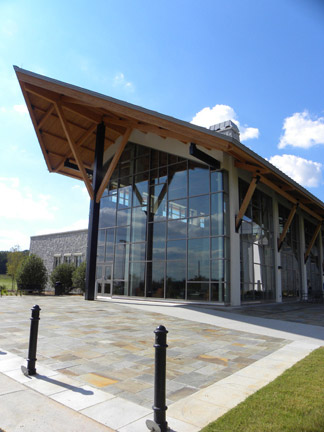 [slideshow gallery_id="3″]
Back in 2008, whispers of a new building on the Cartersville campus were being heard by everyone attending Georgia Highlands College. These rumors quickly became a reality when contractors broke ground in August 2011.
The whole project for the student center cost around $20 million. Inside the innovative building there is a gym, running track, game lounge, fitness rooms, meeting rooms, the Charger Café and the bookstore.
Pleased with the turn-out of students using the building, Carolyn Hamrick, dean of Cartersville campus, said, "I think it's great to see students relax, eat lunch and stay on campus all day."
This building not only has a spot to relax, but a place to be entertained and have fun.
Whether one is a recreational gamer or an athlete, the game area and exercise rooms have much to offer. In the gaming room there are ping-pong, foosball and pool tables as well as couches to lounge on and watch televisions.
Camron Martin, while playing "Assassin's Creed," said his favorite part about the game room is "being able to hang" with his friends after class and "have some down time." The Xbox 360 is provided at the school, but students will have to bring their own games if they want more of a variety to choose from.
Out on the court or in the weight room, athletes can get a workout. Agustin Cruz states that he uses the gym about 10 times in a week. "I come here a lot because I can play basketball and workout for free instead of going to LA Fitness and paying," said Cruz. The possibilities are endless at the new student center.