JJ Merritt: From Player To Coach
Chargers basketball head coach JJ Merritt has always been a lover of basketball, so much that he decided to make a career out of it.
"Just growing up around athletics all the time, I saw the impact that those guys had on my life and all I do is try to visualize and go back to those moments where they really just stood out," Merritt said.
Merritt started his collegiate career in 1994 at Shorter University, where he would go on to play for four years for the Hawks.
In those four years, Merritt had built up some accolades, including, All-Freshman First Team, three-time All-Conference Team, and a three-time NAIA All-American.
He was also about to become the all-time leading scorer for the Hawks with 2,146 points.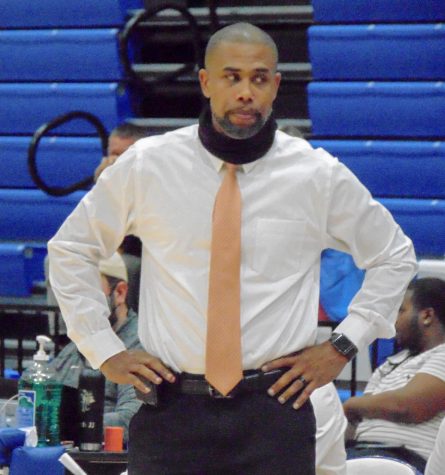 Other records include most field goals made, with 944, and most free throws, with 929.
Overall, Merritt averaged 17.6 points per game and scored in double figures in 106 of his 122 games.
With his collegiate career over, Merritt said he didn't know what he would do, so he decided to experiment in different areas.
"I dabbled in a lot of different walks of life and really didn't know what I wanted to do," said Merritt. "I stayed in corporate America for 12 or 13 years and that took me into working with the Atlanta Dream and Atlanta Hawks."
It was there that Merritt said he decided to go all in on coaching basketball.
"Sitting in some of the coaches meetings with coach Vetters when she was a coach for the Dream made me realize that maybe this is what I was supposed to be doing, but I didn't like it at that level so that prompted me to start at prep schools to help kids get into college and get a free education," said Merritt.
Now that Merritt said he had found his calling in life, he co-founded the Action Sports Academy, a postgraduate school in Atlanta.
Merritt proved to be a success at Action Sports Academy, winning 83 of his 113 games over the course of three seasons.
On top of the 86 wins, Merritt was able to coach 23 of his 28 players to scholarships from various levels of collegiate play.
"I just really thought that that was my calling in life. It took me a while to find it but once I jumped into it, I loved it," said Merritt
While the success felt great, Merritt said he knew that he could transfer his success to the next level, so he waited for an opportunity to come calling.
Sure enough, Phil Gaffney, former Chargers head coach, reached out to Merritt about an opening that he had on his staff.
"One thing led to another and I was very blessed to come onto the staff with Phil Gaffney," said Merritt.
Merritt would get the assistant head coaching job, where he and Gaffney would go on to lead the Chargers to two NJCAA Final Four's and an appearance in the NJCAA Sweet Sixteen.
In 2019, Gaffney took a head coaching position at Gulf Coast and suddenly Merritt found himself as the new face of the Chargers basketball program.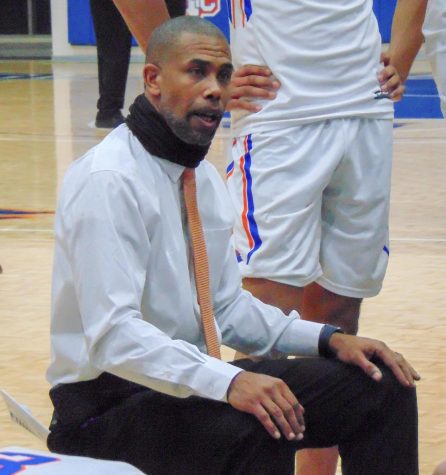 In his first two seasons as head coach, Merritt has a record of 40-11.
While Merritt has proven to us that he can be a successful coach, he sometimes reflects on how he got in his position to grow as a coach, even if that means just a conversation with the people from his past.
"I'm still learning stuff on a daily basis," said Merritt, "I still call coach Gaffney from time to time. Just really people that I respect and look up to in this business. I remember one game I was so mad that I called coach Gaffney and just asked him to break it down for me and tell me what I did wrong."
Merritt's drive to be better is one that he says comes from his competitiveness.
"I am really competitive so if I go after something, I'm going to get it," said Merritt.
While that competitiveness can lead to success, Merritt said that he had to learn how to control it in order to see himself grow as a coach.
"Now I know the right path to channel my anger and my energy instead of putting it towards things that were just not worth it," said Merritt.
Merritt said he has no problem giving credit to those who have helped him get to where he is today.
"I think being around the right people to help make me successful." said Merritt, "because ultimately you're never all the way prepared but if you're willing to learn and willing to listen and get better, then you can make it happen."