Record breaking Kickstarter, "The Legend of Vox Machina", releases on Amazon Prime Video
After crowdfunding $11.38 million on Kickstarter in 2019, the popular "Dungeons & Dragons" live play group, Critical Role, released the animated series' first season through Prime Video on Jan 28, "The Legend of Vox Machina". 
The animated series has two confirmed seasons based on the original Critical Role livestreams. 
The first season contains 12 episodes that have a 25 minute runtime each. The first two episodes contain content not seen in the first campaign, but follows through the fan-coined 'Briarwood arc' seen in the livestreams.
"We wanted to set the entire audience off on the same foot, so you don't have to know what Critical Role is or have ever seen us play an RPG game to just jump right into the series," said Sam Rigel, voice of Scanlan Shorthalt, during the main cast's 2021 New York Comic Con panel.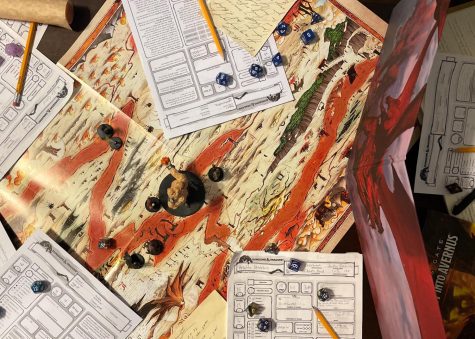 The show contains many standard fantasy elements that are connotative to the tabletop RPG "Dungeons & Dragons," but takes viewers into a new world crafted by Matthew Mercer as the setting of the show and original campaign. 
"As far as fantasy as a genre goes, there's kind of an expectation of what fantasy can do and our story definitely bends those expectations," said Mercer in the 2021 NYCC panel.
Geared toward an adult audience, the animated series is rated R for language, gore and strong themes that follow the content present in Critical Role's livestreams.
"It's important for us to tell a story that's similar in the way to what we started with," said Travis Willingham, voice of Grog Strongjaw, in the same panel interview.
"For the critters and people who supported the show and wanted to make sure that it was our show, it is. It is in every sense of the word," said Willingham.
All original cast members of the first livestream of the campaign will reprise their roles in the series with Mercer appearing as different characters throughout.
The eight Critical Role cast members also took on the role of producers for the series.
The series features many guest voices throughout the animation from Titmouse, INC. Serialized on the Critical Role's YouTube, "The Legend of the Legend of Vox Machina", is an in-depth look into the creation of the series and the voices behind the screen. 
The insider look into the series continues with the "Legend of Vox Machina's Crew & A". A livestream for the "Crew & A" featuring Mica Burton as Moderator will air on Twitch February 1 at 7 p.m. PST, 10 p.m. EST, to celebrate the series release.