GHC students and staff featured on set of 'Spirit Halloween: The Movie'
Several GHC students and Humanities Division Chair Seth Ingram worked on the horror film "Spirit Halloween: The Movie," which premiered at the Nashville Film Festival. It was released for two weeks in theaters beginning Sept. 30 and will be streaming on-demand on Oct. 11.
The movie was filmed almost entirely in Rome, Georgia, featuring various spots in town. Ingram said the production team "came in and loved" the locations.
"We opened the production offices in the PAM Studios building on Broad Street…" Ingram said. "We filmed in Cave Spring and different locations around Rome."
Ingram is listed as an assistant producer, working with film producer Mike Haggerty to find Georgia filming locations visible in the trailer of the film.
"We were crewing up and I tried to get as many students as we could on the film," Ingram said.
Involvement included students as extras in the film and paid crew members like GHC students Damon Self and Joseph McDaniel, who both attend the Floyd campus. McDaniel worked as a production assistant (PA) and Self worked as a grip and electric swing on the set.
"It was a great experience for the students… to work on a professional set…with a budget that size in your backyard," Ingram said. "That doesn't happen often on a shoot, and it's kind of scattered around… but to shoot in one geographical location was very nice."
Ingram said that despite the local filming sites, "[Filming] was a challenge."
The filming for the movie took place between late Nov. 2021 through the beginning of Jan. 2022.
According to Ingram, the challenges presented themselves as pandemic accommodations, the winter weather and replacing town Christmas decorations with Halloween decor.
"I feel like every film set is different," McDaniel said. "It all depends on the genre of whatever the purpose of what making the movie is, you just got to learn to adapt quickly and go forwards from there."
Self found that the ability to network stood out to him most on set.
"Because I met somebody on that film that ended up inviting me to two commercials," Self said. "It was just a start, I guess, into my filmmaking career."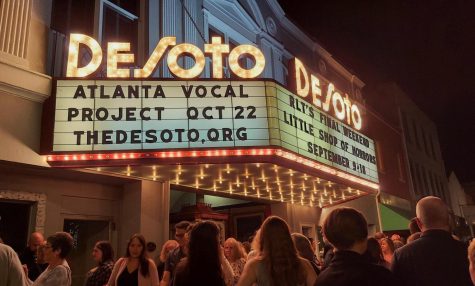 The filming took place before the GHC internship course for humanities was implemented. Students involved with "Spirit Halloween: The Movie" were employed on the film and were paid rather than earning course credit.
More projects involving students like "Spirit Halloween: The Movie" have already begun. GHC students have already filmed and are in the post-production stage for another feature film, according to Ingram.
"There's a lot of projects out there," Ingram said. "Hopefully, we'll have some more happen like that very soon, be it in Rome, Cartersville, Paulding, anywhere in the Northwest Georgia area that we can make them happen."
Self said, "I would definitely recommend any student that wants to be more involved in film to definitely try out Georgia Highlands Film club or any of Seth [Ingram's] classes… he will definitely get you on a film or get you some experience in any way."
More plans are in the works to add additional classes related to film for GHC students.
"I'm trying to build… to make student films," Ingram said. "We're trying to find partnerships and maybe developing more… acting-for-the-camera type courses [for students] to get more involved that way."
Three student films were shot over the 2022 summer break that are currently in the editing stage and are being set to premiere at the Rome International Film Festival.