Commentary: A quarantine-inspired Renaissance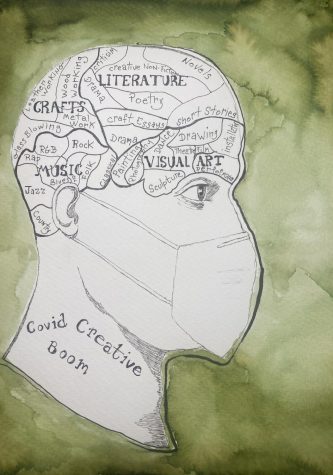 With quarantine almost three years behind us, COVID-19 continues to influence our lives in a unique way: by ushering a creative boom.
TikTok was full of art and DIY projects when the quarantine was first issued. Home Depot stayed busy with the demand for lumber to complete home projects. I distinctly remember struggling to find a canvas at Walmart for a Mother's Day painting.
Anyone can remember the creative juices flowing in 2020, but how has it continued into today? During quarantine, I started writing a lot of poetry to cope with the feeling of isolation.
My love and appreciation for the art continued to flourish and led me to enter several writing competitions in high school. Today, I continue to write poetry as a form of coping and took my love of writing to the next level by becoming an English major.
I spoke to Shelby Elliot, a business administration major from the Floyd campus, on this topic. She agreed COVID had an impact in the creative light. 
"There was some beauty that came out of such an uncertain and troubling time, the beauty of being bored," Elliot said. "Being bored stimulates the mind and sends you new thoughts that inspire creative thinking." 
I think this perfectly describes quarantine as a whole. The 'bored-ness' made this creative boom because it forced us to be alone with ourselves and finally check in with that artistic side of being. 
Elliot told me of her specific hobby in relation to my poetry: aerial arts, which most people will recognize as dancing while suspended in the air with fabric. She later explained that her new way of expression "was motivating and inspiring" to her, and she continues to hone her skills to this day. 
"I joined a community that I go to frequently to learn new skills and have also fully equipped my home to allow me to train," Elliot said. " I am not working towards any specific project, but I am thinking of performing at the end of the year at my studio's showcase."
The new hobbies we found in quarantine helped define ourselves in a new light while also contributing to the community in many different forms. 
Student Jacob Corell said, "I joined a tennis league during COVID for more outdoor activity." This opens another side of creative expression. While some stayed inside and sedentary, others found quarantine as an opportunity to better themselves physically by staying active and soaking up some vitamin D. 
Eric Langstedt, Mount Saint Mary College associate professor of communication arts, and Daniel S. Hunt, Worcester State University associate professor of communication say that their research correlated the influx of hobbies with social media use.
"Coping behaviors during the pandemic, such as adopting a hobby, can protect people from increased anxiety and depression," the article said.
Platforms like TikTok and YouTube promoted creative explorations in many ways. There were countless DIY videos on deck building, yoga, painting tutorials, skateboard tricks, crochet hacks, etc. People have taken these new hobbies and ran, creating a more revolutionized world. 
I call this boom the 21st century Renaissance not only for the expansion of creative minds, but also for the world we live in today. It is comparable to the Renaissance period in the 14th century. It follows a pandemic, involving significant expansion of innovation and invention, scientific breakthroughs and repression of free speech. 
The world we live in today would not be the same without the COVID-19 quarantine. It not only made us more conscious of the world around us, but of our true selves through creative mediums and it will influence us for the rest of our lives.