PTK features honors project documentary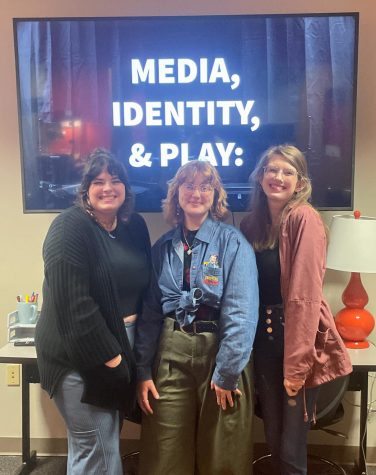 The GHC Phi Theta Kappa (PTK) chapter, Alpha Psi Omicron, hosted viewing parties across the Cartersville, Marietta and Floyd campuses this month to present their documentary, "Identity, Media, & Play: Reconnecting with our Teens," which was produced alongside the Highlands Film Society club.  
PTK members researched for several months in collaboration with Open Door Children's Home in Rome, GA as a part of their Honors in Action (HIA) project.
Once PTK decided on their subject of research –  teenagers, the media and the importance of teaching play – they realized there is a lack of studies dedicated to the topic.
"Teenagers are on their phones and technology at an increasing rate," said PTK Chapter President, April Cole. "Our current media platforms lack at providing teenagers with a productive and playful way to connect to our world."
Research showed that teenagers dislike how the media portrays them, which leads them to feel isolated and disconnected from the world around them. PTK wanted to understand teenagers and how they play to implement better interactions between teenagers and the world through their research.
"Our goal was to shed light on how we can use media to better connect with our teens by introducing playful concepts that can help them better connect to and develop their identity," Cole said. 
Their research revolved around two important themes: systems of play and architecture and design. The study sought to determine whether our environment influences play and communication and whether play during adolescence is responsible for adult development. 
Open Doors Children's Home provides emergency and extended housing for youth going through difficult times in which they need a safe environment to grow. In the documentary, Clinical Director, Whitney Gates, described play as having a role in all seasons of life as it is how we connect to people, role-play relationships and learn.
PTK was able to allocate funds for this project towards activities the teenagers wanted to do. They incorporated play by creating scrapbooks, slime, piggy banks, screen printings and tie-dyed t-shirts.
The results of the research were that the door was opened for the teenagers to form connections and share their identities through play. Likewise, the project proved to be insightful for the adults as it showed them ways to incorporate play and shape their identity.
Projects such as this one have allowed Cole to grow toward reaching her potential. 
"I've had the opportunity to mix my leadership, innovation and creativity skills into successful endeavors such as leading the development of a new program for GHC – the Student Ambassador Program – and producing a research-based documentary," she said.
PTK Honor Society Lead Adviser and Associate Regional Coordinator, Dr. Karen Huggin, said she is "incredibly proud of the Honors in Action team."
"Our PTK honor students have amazing talents and have the biggest servant hearts," Dr. Huggin said. "They worked together with this entire project to produce such an impressive and professional documentary."
PTK membership is by invitation only each semester. Students must have a 3.5 or higher GPA and complete 12 regular course hours prior to the beginning of the semester to be eligible.
Being a part of PTK affords students "prestige, scholarships, leadership-service-fellowship opportunities, graduation regalia, business discounts and publishing opportunities."
In addition, members have access to scholarships, career training, member discounts and many other benefits.
PTK is actively searching for new officers for the next academic year, as all current officers will be graduating. Interested students should contact Dr. Huggin at [email protected] 
"I recommend an officer position to any student that wants to learn more about how to utilize their education to better their community. PTK truly bridges the gap between scholars and their community," Cole said.