Featured authors at Highlands Writer's Conference: 'Write what you know'
The sixth annual Highlands Writer's Conference was held on March 11 in the GHC Cartersville campus Student Center and STEAM building. Writers of all genres from the local community and the GHC student body attended to listen to the expertise of published authors, resulting in a turnout of over 75 in-person attendees with more that joined over Zoom.
Published authors who specialize in various genres gathered at the Writer's Conference to lead informative sessions about their preferred genres, writing techniques and publishing advice to the attendees that aspire to publish their own stories one day. The sessions included genres such as children's books, memoirs, novels and poetry.
The event is sponsored by GHC and was organized and overseen by Highlands Writer's Conference Director and Professor of English, Danielle Steele.
"We really wanted to provide an opportunity for both students and community members in the area that [Georgia] Highlands serves to have an elite-level conference that they could experience… without driving to Atlanta," Steele said. She added that it's an opportunity for writers to learn from people who are professionals in their craft.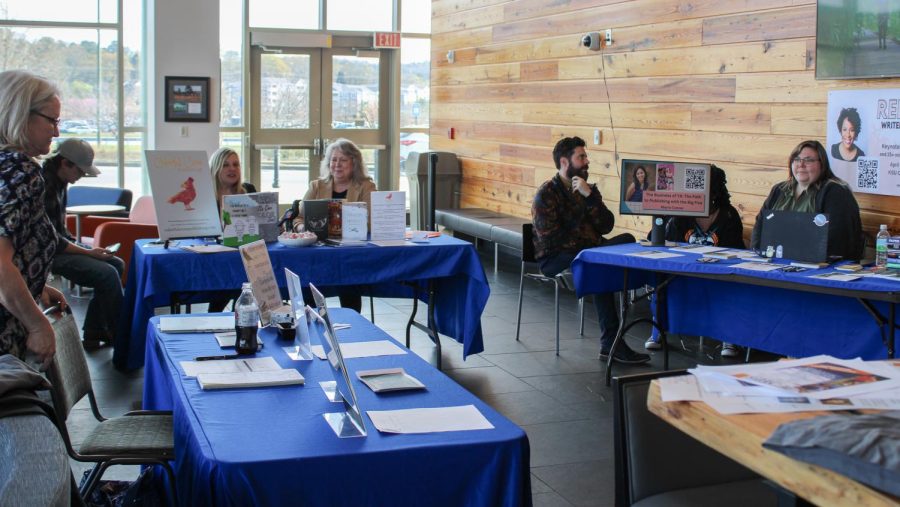 This year's conference also welcomed the return of one-on-one writing critique sessions, which were previously shelved due to the COVID quarantine. The critique sessions were held by Assistant Professor of English, Danny Bellinger, and Adjunct Professor of English, Rahad Abir.
As a fully-online instructor, Abir said he missed meeting new writers and agreed to hold the critique sessions when he was approached by Steele.
"I can see people enjoying the sessions; happy faces. And the conference [is a] useful opportunity to meet other writers and how to develop your own work," Abir said.
Young-adult fiction author Mayra Cuevas, fiction author Anthony Grooms, award-winning screenwriter Jennifer Dunn and formal journalist and poet and historical fiction writer, LeAnne Howe, were among the speakers present at the event.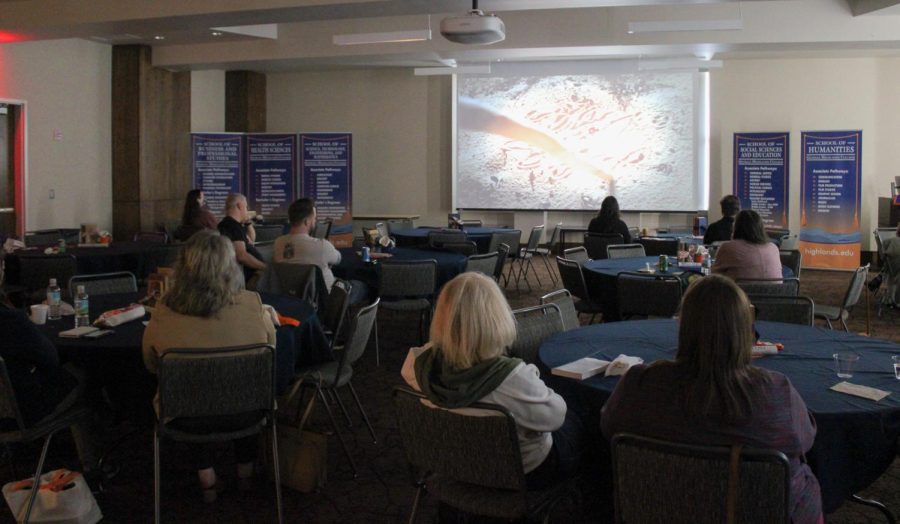 The conference featured the documentary "Searching for Sequoyah," co-written and co-researched by Howe. It follows the final journey of the Native American Cherokee, Sequoyah, to trace his steps to his hidden resting place. This is the first time the Highlands Writer's Conference has featured a film.
"I'm really honored to be here with everybody and it's fun to be with a lot of writers, so I'm really grateful that I can do so," Howe said.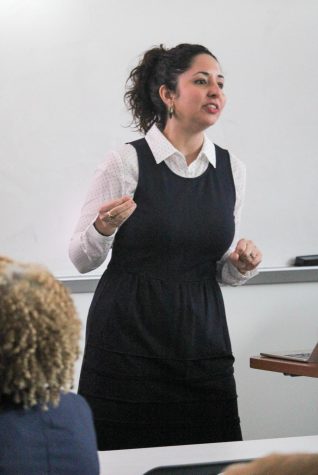 All writers are inadvertently introduced to their niche at some point in their life. For Cuevas, author of "Salty, Bitter, Sweet" and co-author of "Does My Body Offend You?", YA fiction was her form of escape during a difficult time in her teenage years. She said "they can help you find hope" and "make sense of the world in very intimate, private ways."
Many writers have unique experiences which they incorporate into their writing for others to indulge in and learn from.
"You're literally experiencing life through somebody else's perspective. So, you're building empathy, you're walking in somebody else's shoes," Cuevas said.
During her YA session, Cuevas told attendees to write what they know—a common piece of advice within the writing community. Howe, conference keynote speaker and University of Georgia Eidson distinguished professor, provided the same advice during her presentation.
Howe said "the way of being a good writer" is for writers to broaden their horizons by chasing new experiences and knowledge. She has incorporated all her life experiences into her fiction writing, such as her trip to the Middle East with her husband and her previous career as a journalist.
Howe said her inspiration for writing Native American memoirs, poems and historical fiction about her heritage and family "was something I knew," but that she still "had to do a lot of research around that."       
Abir also said that writers should conduct research for their stories if they are taking place in real locations and cultures. He said he would research as much as possible about a region to apply it to his novel. However, research can only go so far for certain genres.
"If you have to always… write about, what you know about; so how can we write fantasy… sci-fi? Those worlds [are] completely out of your imagination," Abir said. "If you write a novel, the media will tell you don't know much… All we can do is from our imagination. But you have to make them real…"
Graphic Design Instructor, Melissa Rutledge, is a first-time attendee and took the opportunity to expand her screenwriting knowledge in Dunn's session.
"The presenter of that was very good, very detailed. She was really open to answering questions, and I'm involved with the Rome International Film Festival, so that seemed relevant to me," Rutledge said.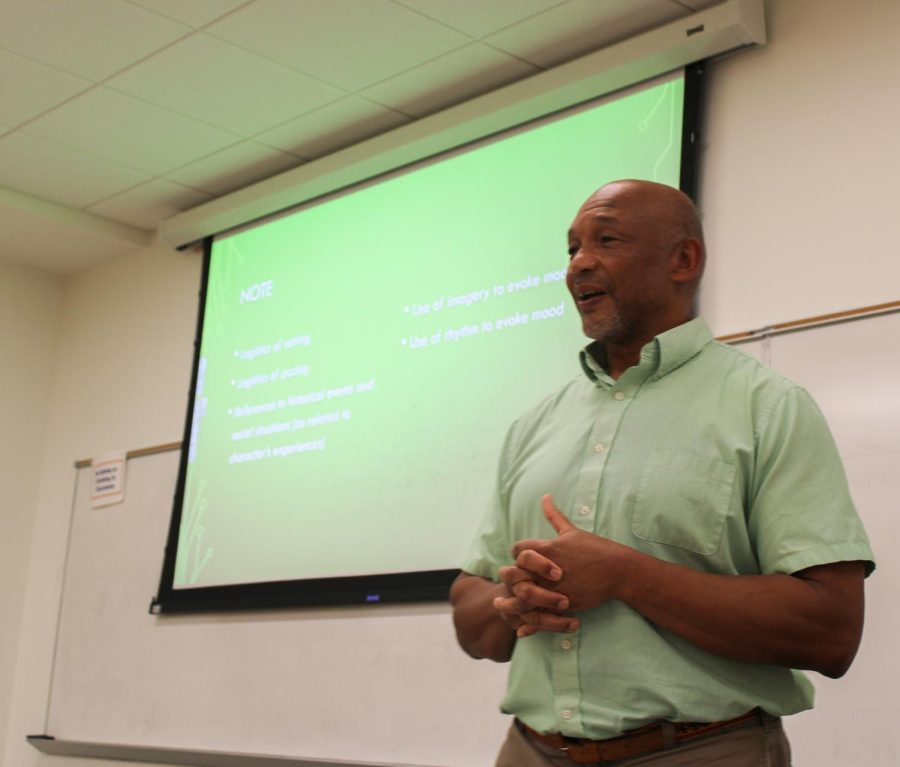 The Highlands Writer's Conference provides many learning and networking opportunities for every kind of writer, whether they are aspiring to publish their work or only write as a hobby. Steele said that she previously connected with Howe through another writer's conference and "hopefully people today made those same kind of connections…"
"It's a really great opportunity for this area in Northwest Georgia and it's great to see such a thriving writing community just at Georgia Highlands College," Rutledge said. "And the fact that we can get these authors to come and spend their time and kind of lead the next generation [is amazing]."
The Highlands Writer's Conference will return in 2024 for aspiring writers to learn more ways to incorporate their experience and knowledge in their stories with the help of professional writers.