Commentary: Two films defy expectations at 95th Academy Awards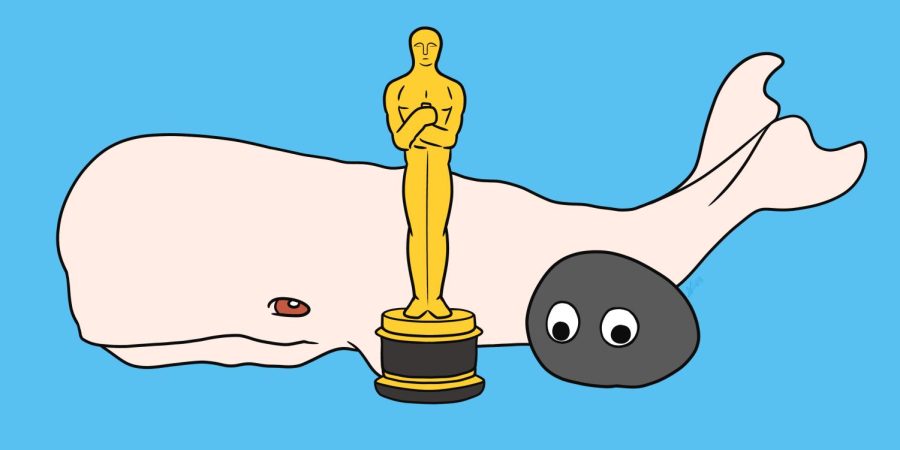 -Spoiler Warning-
A24 Studios left the 2023 Academy Awards with a number of triumphs and recognition. "The Whale," starring Brendan Fraser, Sadie Sink and Hong Chau, walked away with two Oscars. "Everything Everywhere All at Once," starring Michelle Yeoh, Ke Huy Quan, Stephanie Hsu, Jamie Lee Curtis and James Hong, broke records by receiving the most Oscars at once: a total of seven.
"The Whale," directed by Darren Aronofsky and adapted from the original screenplay by the author, Samuel D. Hunter, won Best Makeup and Hairstyling. Fraser won Best Actor for his portrayal of Charlie, which is a comeback story in itself.  
In an interview with MovieWeb, Aronofsky admitted he had not seen much of Fraser's previous work, but that he had a gut feeling and that Fraser as Charlie in "The Whale" "needed to happen."
"The Whale" has a 7.8 IMDb score as of the publishing of this article, but don't let the average-looking score fool you. This psychological drama follows Charlie (Fraser), a 600-pound college literature professor, as he reconnects with his estranged daughter, Ellie (Sink), and tries to find meaning in his life in his final days before dying of decongestive heart failure.
I was not particularly interested in watching "The Whale" at first because I am not typically drawn to emotional dramas. However, one scene shown in the trailer changed my mind. Fraser as Charlie, with sweat dripping down his face and eyes red from holding back tears, screams, "I need to know that I've done one thing right with my life."
In the MovieWeb interview, Aronofsky said he discovered how Fraser used his voice during the filming, "which illuminated Charlie's inherent vulnerability…" Fraser brings so much emotional value to Charlie's character in this way. He is soft-spoken and patient, especially to Ellie, who is nothing but nasty to him throughout most of the movie.
The film explores the themes of worthlessness and rejection through many channels, such as Ellie feeling tossed away by her dad, Charlie's late boyfriend's rejection from the cult he grew up in that led to his suicide and Charlie's own despair from his lover's passing that led him to his state in the film. 
The setting of the film was confined to one space, but it was enough room to hold this captivating and heartbreaking story.
"Everything Everywhere All at Once" rocked the Academy Awards with its incredible cast, performances and story. The visual effects were handled by a team of only five people, the movie was shot in 38 days according to Insider, and with a budget of $14 million according to The Hollywood Reporter.
The film won Best Picture, two Best Directors for Daniels Kwan and Scheinert and Best Original Screenplay. Michelle Yeoh was awarded Best Actress for her performance as Evelyn, Ke Huy Quan was awarded Best Supporting Actor for his performance as Waymond and Jamie Lee Curtis was awarded Best Supporting Actress for her performance as Deidre.
"Everything Everywhere All at Once" has an IMDb score of 7.9. CBS News noted that it beat the long-awaited "Avatar: Way of the Water" and "Top Gun: Maverick." The film follows Evelyn and Waymond, married Chinese-American immigrants trying to keep their marriage alive while also keeping their laundromat business afloat.
Evelyn struggles to maintain her relationships with her family between her husband, her father Gong Gong (James Hong), the older generation, and her daughter Joy (Stephanie Hsu), the younger generation. This precarious balance is further disrupted when Evelyn learns of the existence of the multiverse and is thrust into the middle of a battle to save it.
"Everything Everywhere All at Once" heavily portrays generational trauma. Marietta campus biology major, Jennifer R. Sanchez, said she can relate to "having immigrant parents with conservative values" as a Mexican-American descendent.
"I think [generational trauma is a] very common dynamic in immigrant families in the USA," Sanchez said. She added that the portrayal of it in the film is pretty accurate to how people experience it in real life, and that "I've had similar instances happen to me or my sisters."
The film also tackles nihilism – the abandonment of morals and belief that life is meaningless – through the main antagonist, Jobu Tupaki, aka, Alpha Joy. Her mind was shattered through multiple Verse Jump trials, making her perpetually experience everything, everywhere, all at once. (Roll credits.)
One scene that perfectly portrayed this theme is the rock scene. Jobu Tupaki explains that new discoveries only lead to humans realizing they are that much more insignificant, implying that everything humans deal with has no purpose.
"Every new discovery is just a reminder-" – Jobu Tupaki

"We're all small and stupid." – Evelyn Wang
"I thought that was a powerful scene," Sanchez said. Even as a rock, Evelyn decided to make something out of it, communicating "There are no rules!" when she willed googly eyes onto her rock-self. It shows that you can find something good in the bleakest of situations.
"Everything Everywhere All at Once" is a challenge to the standard of Hollywood filmmaking with a story that resonates with many amidst all the fun ridiculousness.
Both films and the actors involved deserve all the recognition for their stellar performances. Fans will remain attentive to their careers to see what they have in store for us next.