Six Mile Post claims victory at GCPA
In its first year competing against four year schools the Six Mile Post received 12 awards from the Georgia College Press Association at the annual awards luncheon in Athens, Feb. 7. The awards recognized work from spring and fall 2014.
In addition, two SMP staff members were elected to state office.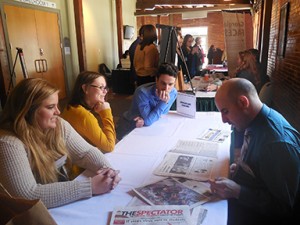 The Six Mile Post was awarded first place in General Photography, third place in Best Website and third place in Best Campus Community Service-Sports.
Pedro Zavala, former SMP editor-in-chief, was awarded first place in General Photograph-Sports.
Former SMP photographer Tatiana Smithson placed second in Best Photograph-News, and staff writer Brianna Drake placed third in that category.
Zavala and Karlee Helms, managing ed., sports, placed second in Best Photo Essay.
Helms also placed third in the Best Entertainment story category and second in Best Sports Story.
Kiston Dowler, editor-in-chief; Derweatra Hammock, managing ed., design; and Zavala placed first, second and third, respectively, in the Best Editorial category.
The general awards category was divided into large and small colleges by enrollment. The two individual award categories were first and second year students and junior and seniors.
Holly Chaney, staff writer, was elected treasurer, and Helms was elected to the Georgia College Press Association board.
"I am honored for the opportunity to work as a GCPA officer. It is an exciting opportunity to be able to serve as treasurer along with such bright individuals, and I have high hopes for what we will achieve this year," said Chaney.
Antonio Garcia, former SMP managing ed., online, who currently attends Georgia State, was elected GCPA president.
"It's a great feeling being elected as president of such an established organization. I'm excited to have two people from the SMP and another from The Signal in office with me, and I look forward to working with other great people," said Garcia.
Representing the Six Mile Post staff at the GCPA meeting were Dowler, Helms, Chaney, Hammock, Anna Douglass, Tyler Hogue, Tendraia Perry and Joey LeFurgey.