GHC student films featured in RIFF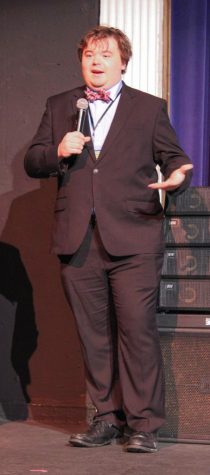 On Nov. 13, the last day of the 19th annual Rome International Film Festival, the Undergraduate Block was shown in the DeSoto Theater. Three films made by GHC students were featured: "Operation Blackout" by Director Damon Self, "Backpack in the Alley" by Director Joseph McDaniel and "The Suspects" by Director Albert Cooper.
Self and McDaniel are both members of the Highlands Film Society. The club assisted Cooper with the production of his short film. Cooper is also the author of "Wolf Cry," which was released in September. The short films were shot in locations in Rome, GA.
"This is my very first premiere on my very first short film that I've ever directed," Self said. He is also the writer and editor for "Operation Blackout" and Director of Photography for all three short films.
The short film is a suspense thriller where the main character grapples with past events and mental health issues while he and his friend try to deal with a nuke dud that landed in his front yard. It and the other two films were the last to be shown in the block.
"I was super anxious. And I did not know what to expect when the film premiered," Self said. "I was just trying to really take it in and see how the audience reacted to some of the shots."
Self and McDaniel worked together on each other's short films and created an impromptu connection: the bomb. McDaniel said that they used the bomb from "Operation Blackout" as the object of importance in "Backpack in the Alley" during the Q and A session after the showing.
Self said that there has been talk amongst the cast and crew of creating a third film to continue the narrative and that Justin Ford, RIFF videographer and Highlands Film Society member, has been vocal about it.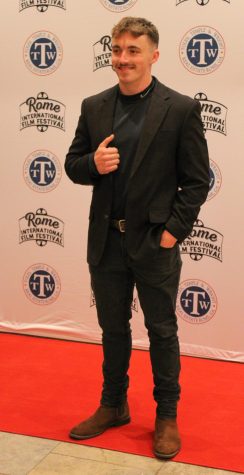 "We've been so focused on getting this (RIFF) done, we haven't really touched base on that, so we'll see what happens," Self said. "I would definitely be down to continue that."
Collin Talent, also a member of the Highlands Film Society, is an actor that played characters in all three short films. He played Randy in "Operation Blackout," Jimmy in "Backpack in the Alley" and "Number 2" in "The Suspects."
Talent said he has theater experience from high school and started acting to pursue filmmaking.
"As soon as I got into the film club, they're like, 'Hey, we need actors. Can you be an actor?'" Talent said. After he said yes, he continued to be approached with the question and went on to play roles in the three films as a result.
Talent said that he is more confident in his acting abilities after watching the premiere of the three short films at the festival. He hopes he can act in other films in between film projects of his other filmmaking ambition, screenwriting and directing.
"I'd still say I'd like to work on my voice a little bit. But more so, I would say I'd like to work on my energy; be a lot more convincing," Talent said. "If I can get to the point where it doesn't look like I'm acting, I'd be satisfied."
Talent said one of his favorite scenes to shoot was his character's death scene in "The Suspects." He added that he enjoyed getting to film in an abandoned factory for "Backpack in the Alley" since he has previously worked at and frequents haunted houses.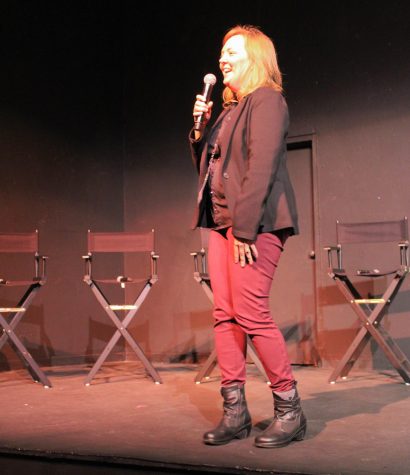 Ford had a big hand in all three short films as well. He mostly worked behind the scenes as co-editor and drone camera operator for "Backpack in the Alley," audio tech for "The Suspects" and prop master for all three films. He also had a short, on-screen appearance as the goon that pops out of a shrub in "Backpack in the Alley."
Ford said that he's happy with the films being featured in the festival.
"My favorite part in the theater was during Joseph's film. When Trent, the guy in red… gets shot in the back of the head," Ford said. "That was my favorite shot to do."
Ford said he enjoyed the overall experience of producing the short films and that working on them has given him prospects of how he would like to work on films going forward.
"One of the things I'm going to try to do is sort of have – at least for my smaller projects – have a lower amount of cast and crew," Ford said. "I feel like the higher that is – especially with the crew – the higher that is, the longer it can take."
The cast and crew that worked on the films plan to continue their endeavors in filmmaking and improve their skills going forward.  
Self wants to tell other creatives "Please create more. Don't ever stop. Don't ever listen to the people that say you can't do it, because if you just keep going, you will definitely end up with some sort of product no matter if it's good or if it's the worst… I would say just keep creating."